By Jessica Lyons
World Possible has created Remote Area Community Hotspots for Education and Learning (RACHEL) to help facilitate learning in countries all over the world. RACHEL is helping increase educational opportunities while getting users excited about learning. World Possible Executive Director Jeremy Schwartz explains to Study.com the impact of RACHEL.
Study.com: How did the idea for World Possible's Remote Area Community Hotspots for Education and Learning (RACHEL) come about? How does RACHEL work?
Jeremy Schwartz: World Possible was founded by a group of Cisco Systems employees (Norberto, Pranav, Neil and Megha) who created RACHEL to help teach classes in developing communities. RACHEL allowed them to bring one copy of educational resources to a computer lab and have all the computers access the same content while they taught courses.
RACHEL includes a lightweight piece of software that allows any computer to create a Wi-Fi hotspot of RACHEL content so individuals or students nearby can access the content through any browser (desktop, laptop, tablet, smartphone). RACHEL is also indexed, allowing users to learn Internet and research skills.
Study.com How does World Possible help make education accessible?
JS: World Possible develops and maintains a free-to-download repository of educational content curated from the best Creative Commons educational resources available. World Possible also travels to developing communities with field experts to teach classes and help install local networks of RACHEL content.
Study.com World Possible serves developing communities. Which communities are you in? Is there a certain age/grade level that you focus on?
JS: We're pretty global. RACHEL has a confirmed presence in over 30 countries. We have the largest presence in East Africa right now and are beginning to develop RACHEL in languages other than English. By and large, most RACHEL deployments are in elementary schools and community centers focused on youth.
Study.com What kind of educational materials are available through RACHEL?
JS: The Khan Academy, Wikipedia, CK-12 textbooks, MIT OpenCourseWare, Hesperian Health Guides, music theory, typing classes and other sources are all packaged into RACHEL's offline server.
Study.com What sort of impact has RACHEL had on the education of those who use it? How does having access to educational resources change the lives of people in these communities?
JS: World Possible and RACHEL provide opportunity for individuals to teach themselves. We have widely varied results based on the individual motivations of the users. In some cases, we have students who can't stop using it. Diego, a boy in Guatemala, asked to come in on a school holiday to spend more time watching Khan Academy videos. Samuel, a young man in Sierra Leone, taught himself computer literacy and kept in touch with World Possible. He wanted to be the first kid in his orphanage to attend college, and we worked with Cisco to sponsor his education at the Cisco Networking Academy in Sierra Leone (Cisco paid for his schooling; World Possible sponsored his room and board). Educational opportunities are limited for a lot of the students we're talking about. RACHEL can be their way out and up from situations I never dreamed I would see five years ago.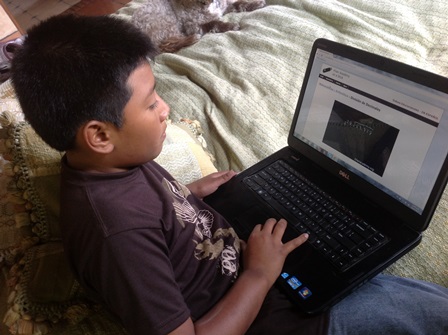 Study.com What is the biggest challenge you face in helping bring education resources to developing communities? How do you overcome that challenge?
JS: RACHEL is infinitely scalable (install it once and move on with the USB or copy the USB) and deployed in locations without Internet. It's very difficult for us to fundraise and challenging to incorporate feedback because we often don't hear about RACHEL's organic growth or impact for years. BBC World News included RACHEL in an article about education in Uganda two years after we sent a USB to the community; all the while we had never heard about what happened to it. We also deal with a language barrier in many communities while we work to develop RACHEL in Hindi, French, Spanish and other languages.
In both cases, we rely on installation partners to give us feedback on what works and what doesn't, what content is being used and what isn't.
Study.com What do you find to be the most rewarding part of the work done by World Possible?
JS: For me, it's always the personal connections that bring the rewarding feeling. We work with hundreds of installation partners around the globe, and when we can bring those individuals together, making introductions to folks working on similar missions in Tanzania or Laos or anywhere else in the globe, it feels like we're building a network of people who are fighting to give opportunity to those who need it most. Knowing we can serve as a small conduit in building those ties is really a rewarding experience.
Study.com What are your future goals for World Possible and RACHEL?
JS: World Possible is aiming to be the place for developing and discussing offline and rural education. We are trying to create a forum and community of individuals who can talk about education in places where the infrastructure we take for granted doesn't exist. We want to build out best practices for hardware, software, power, networking and content.
We'd like to build RACHEL in additional languages, improve its functionality and distribute it in unique circumstances. Specifically, we hope to put RACHEL servers in solar computer labs or cell phone charging stations and build functionality for students to download packages from it while they charge their mobile devices. We're actively looking at opportunities to deploy RACHEL en masse with USAID, corporate sponsors and state governments.
Study.com How can our readers get involved and support the work being done by World Possible?
JS: World Possible is always looking for donors, volunteers and advocates. We only ask individuals to donate $2/month. Part of our mission is to let those with the least know there are lots of people who want to support their ability to educate themselves, so we always let our installation partners know how many people are donating the $2/month.
Volunteers who can help with technical development, technical support and content curation, especially in languages other than English, are in pretty strong demand around World Possible. We usually pair individuals up with one or two deployment partners to help troubleshoot RACHEL and networking problems or send content updates. Many of our volunteers end up visiting the installation partners they are paired with.
Study.com Is there anything else you'd like to share with our readers about World Possible and RACHEL?
JS: Many people overestimate World Possible's size and underestimate their ability to make a very significant impact. We are still an all-volunteer organization with a core group of loyal enthusiasts. It means we are creative and flexible about how we work. It's a decentralized place with great opportunities for entrepreneurial and driven individuals to impact thousands of lives. One USB mailed to a community can, and does, turn into thousands of installations accessed by dozens of individuals. It's sometimes hard to comprehend both how needed and how impactful RACHEL is.
Study.com has made a donation to help support World Possible. Visit World Possible's website to find out more about their work and how to make a donation.
Check out Study.com's article on Hope for Nepal to find out how they're bringing more education opportunities to rural areas.