By Sarah Wright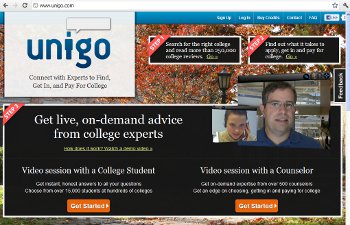 What Does Unigo Do?
Employing both current students and college counselors to build up a database of helpful information, Unigo is a must-use tool for college-seekers. Students and parents alike can take advantage of the site to get more information about what a school is really like from those who know it best. No more relying on seemingly arbitrary lists put together by magazine and newspaper editors - the information on this site comes from on-location experts who know their school like the back of their hand. Though student testimonials should always be taken with a grain of salt (your experience might be dramatically different), Unigo provides excellent access to useful information that will help you decide where to go to school.
Here are just a few of the features available on the site:
An 'Advanced Search' function that allows you to narrow down which colleges would work best for you based on criteria like school selectivity and size, available majors, tuition cost and location.
'College Connector', a college matching service that's great for students who have no idea where they want to go. By answering questions like what 'vibe' you're looking for (urban, suburban, rural), how many students you'd like to see on campus and what kind of academic atmosphere you'd like to be part of, you can get matched up with schools that fit in with what you want.
College rankings based on the feedback of more than 30,000 current college students, and focusing on straightforward, to-the-point categories like 'Never-Ending Weekend' and 'Straight Edge'.
A 'Talk to an Expert' section that allows you to video chat with students and college counselors who can give you insight into life at a particular school and advice on getting in.
Advice for every step of the application process, from picking the right schools to presenting the best application and handling acceptance or rejection letters.
Why You Should Use Unigo
There's a lot of available information about colleges, from books and rankings websites to the information put forth by the schools themselves. And with social media and sites like RateMyProfessors.com, you can gain access to first-hand opinions from current and former students. That much information can be useful, but it can also be overwhelming.
But Unigo provides more than just another source of detached information. By attacking areas that other, more established ranking systems chastely ignore - things like drug and alcohol use, hookup culture and other realities of college life - Unigo helps provide college-seekers with a more complete picture of what life as a student might be like at a given school. And by asking students to weigh in, they're sharing with students opinions from their peers rather than from people who are their parents' age or older. And on top of providing relevant information, Unigo is well-designed and very easy to use. Even if you balance what you get from this site with other well-researched info, you'll be glad you had access to such a complete and useful resource.
Unigo is just one way your can get in-depth knowledge about colleges and universities without ever having to leave your house.