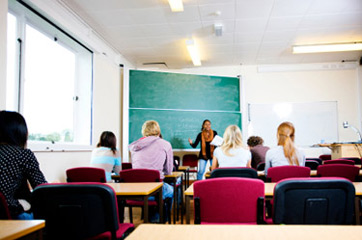 The Facts
A bachelor's degree has become increasingly harder to earn in four years. According to Time, more than 60% of students take an average of six years to graduate from college. In public schools specifically, less than one-third of students graduate in four years. Why is that the case?
More Work = Less Studying
Writing for The New York Times, economist Judith Scott-Clayton puts forth a few reasons students might take longer in school, none of which are especially obvious. Her first point: Many more students work jobs to pay for college now than before. This correlates a point made in an April 2010 study by John Bound, Michael F. Lovenheim and Sarah Turner that low-income students generally extend their schooling the most.
Time in the workplace takes away from time in the classroom, necessitating longer study. However, the money students earn from working their way through four years of college may not be enough to cover a fifth year. In the end, it could've been a better bargain for them to graduate sooner.
Motivation
Scott-Clayton points out, though, that economic factors are fairly tenuous and may not have a direct relationship on time spent learning (for example, does college take longer because students work, or is work something to do because college takes longer?). A question of motivation sits at the core of this issue: Why should (or shouldn't) a student want to complete college in four years? Assuming loans, jobs or other sources provide money for a fifth year of college, why not stick around?
Federal Policies
Speaking of loans, Scott-Clayton brings up the federal government's student loan policy, which considers recipients full-time college students if they enroll in 12 credit hours a semester, even though many schools require 15 hours per semester to complete a bachelor's program in four years. Such rules remove, at least in part, the economic motivation students have to complete their degree programs as quickly as possible.
Overcrowding
Overcrowded classes may also affect four-year graduation rates, according to Scott-Clayton. In some schools, students have to wait a semester or even a year to take classes crucial to graduation. That problem only builds on itself; if schools don't come up with a way to handle overflow, incoming students continually get shut out of courses, causing successive waves of students to delay their graduation.
Switching Majors
According to College Parents of America, as many as 80% of students change majors at least once during their college careers. Students often pick their initial majors based on family influence, financial gain, the influence of a professor or a career interest, as noted by the National Association of Colleges and Employers. While switching majors may be necessary if a student's priorities change, it can also lengthen his or her graduation timeline. Students should discuss their major switch with an academic advisor or faculty member to fully understand its implications.
What Is Being Done?
Schools are increasingly motivated to graduate students in four years. According to Time, schools' national rankings are affected by students who take more than four years to graduate. There is also the looming threat of overcrowding if too many students stay for a fifth or even sixth year.
Victor Luckerson of Time notes that schools are devising creative solutions for the graduation problem. For example, Purdue University has considered a trimester calendar with more classes offered during the summer. At University of North Carolina, which has an 80% on-time graduation rate, only undergraduates who complete their programs within eight semesters can have additional majors or minors added to their transcripts.
To expedite success in school, incoming Purdue students can enroll in a pre-freshman five-week camp that prepares them for college-level coursework. Purdue's acting president, Tim Sands, encourages freshmen to seek guidance from academic advisors and career counselors; students are also encouraged to develop a four-year graduation roadmap.
Looking for ways to make your college time a little easier? Check out a few tips and tricks to breeze through college.