Volunteer Firefighter
What is a volunteer firefighter? Volunteer firefighters are brave individuals who assist in putting out fires. Despite being recruited volunteers, they must still go through extensive training, and many obtain emergency medical technician (EMT) certification as well. Though they enter the field as volunteers, through hands-on experience they can become a paid firefighter earning a median salary of $50,850 a year, according to the U.S. Bureau of Labor Statistics in 2019 (BLS). Read on to learn more about how to be a volunteer firefighter.
The physical requirements for volunteer firefighters can be very demanding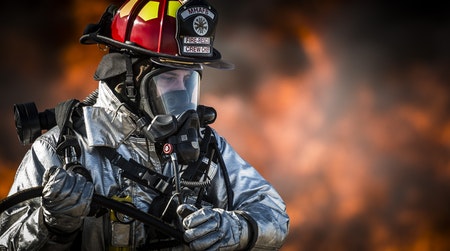 How to Become a Volunteer Firefighter
Volunteer firefighters assist professional firefighters after being recruited and completing a training program. Most departments also require firefighters to become certified emergency medical technicians (EMTs). While volunteer firefighters need no formal education past a high school diploma, holding an undergraduate degree in fire science or fire safety engineering may provide an easier path to a paid firefighting position.
| | |
| --- | --- |
| Required Education | High school diploma |
| Other Requirements | 110 hours of training; EMT certification |
| Projected Job Growth (2019-2029) | 6% (all firefighters)* |
| Median Salary (2019) | $50,850 (all firefighters)* |
Source: *U.S. Bureau of Labor Statistics (BLS)
Step 1: Meet Basic Volunteer Firefighter Requirements
Volunteer firefighter requirements vary by fire department. Most departments require firefighters to be 18 years of age or older and hold a high school diploma or its equivalent. Candidates are generally required to pass written and physical exams, drug screenings and background checks. Some departments may require volunteer firefighters to hold a valid driver's license and live within a department's service area. Many employers prefer applicants who demonstrate strong decision-making skills, dependability and bravery.
Step 2: Complete Volunteer Firefighter Training
After being recruited, new volunteer firefighters typically enter department-run training academies or similar programs. Training programs are comprised of both practical application and in-class instruction. Trainees learn to handle various rescue tools, such as extinguishers, axes and ladders. Along with firefighting techniques, they're instructed in preventing fires, handling hazardous materials and performing emergency medical procedures.
Firefighters continue training in their departments after graduating from training academies and are typically subject to probationary periods. Many firefighters participate in apprenticeship programs. Apprenticeships can take up to four years to complete and provide trainees with hands-on experience under the supervision of skilled fire protection professionals.
Step 3: Earn Emergency Medical Technician Certification
Fire departments usually require firefighters to become certified emergency medical technicians (EMTs). Most firefighters hold the EMT-Basic designation, which is the minimum level of certification. Firefighter academies may include EMT training; otherwise, volunteer firefighters may attend EMT-Basic training courses offered by community colleges and healthcare providers. Along with classroom instruction in emergency response techniques, these programs incorporate practical experience in emergency rooms or ambulances. After completing formal training, EMTs may obtain certification by passing written and practical tests offered by the National Registry of Emergency Medical Technicians or a state certification board.
Step 4: Consider Postsecondary Training
Volunteer firefighters only need a high school diploma; however, the U.S. Bureau of Labor Statistics reported that a growing number of firefighters have completed some postsecondary coursework (www.bls.gov). Volunteer firefighters may be more likely to advance to a paid position if they hold an undergraduate degree in fire science or fire safety engineering. Associate's degree programs in fire science typically take two years to complete and are geared toward firefighters seeking advancement in the occupation. Courses may cover fire prevention and protection systems, firefighting strategies, arson investigation, building construction and hazardous materials.
Step 5: Consider Additional Certifications
While not mandatory, some firefighters choose to pursue professional certification. The National Fire Protection Association offers the Certified Fire Protection Specialist (CFPS) designation to professionals dedicated to fire safety (www.nfpa.org). Candidates must have a high school education and six years of fire protection experience, an associate's degree and four years of first-hand practice, or a bachelor's degree directly related to fire safety and two years of related work. Qualified candidates may complete a 100-question certification exam to earn the CFPS designation. CFPS firefighters may renew their certifications every three years by providing proof of experience, contributions to the profession and continuing education credits.
FAQ
Do Volunteer Firefighters Get Paid?
Volunteer firefighters do not get paid for their work. However, with experience, training and possible certification, volunteer firefighters are more likely to qualify for a paid position in the future. Becoming a volunteer firefighter is an important job in any community, and those who pursue training are prepared to assist others where they live, even in the absence of a volunteer firefighter salary.
What Is the Minimum Age for Volunteer Firefighter Training?
The age restrictions for volunteer firefighters vary by region; in most places, the minimum age is between 16 and 21 years old. In some cases, those who are under 18 can volunteer with their local fire departments and fulfill non-emergency roles. Check with the fire department where you live if you're interested in getting involved as a volunteer firefighter but want to know more about their specific requirements.
What Are the Volunteer Firefighter Requirements?
The volunteer firefighter physical requirements will vary by location, but they typically include passing a medical check and having specific physical abilities, including carrying a certain weight, dragging a human-shaped dummy a certain distance, lifting ladders and moving hoses. The requirements are strict and many people are disqualified from positions as volunteer firefighters because of their physical restrictions. There are also volunteer firefighter training requirements stipulated by the fire department for those who pass the physical and written exams. These requirements also vary, but include drills, safety checks and vehicle operation among other things.
What Do Volunteer Firefighters Do?
Once accepted, volunteer firefighters perform a broad range of tasks while on the job. Volunteer firefighter job duties include but are not limited to the following:
Responding to emergency calls
Driving fire trucks
Extinguishing fires
Extracting people and animals from emergency situations
Performing first aid
To review, volunteer firefighters assist in the control and extinguishing of emergency fires. Those who enter this field have to take part in training; they can also pursue EMT certification, as well as a bachelor's degree in fire science. Those with both experience and education may have the opportunity to move up to a paid firefighter's position where they can earn a median salary of $50,850 a year, according to the BLS in 2019.