By Megan Driscoll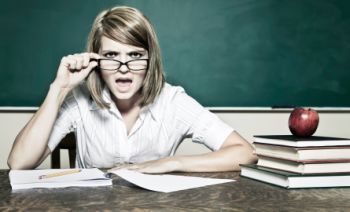 Education Reformers Raise Questions About Teacher Tenure
Since President Obama took office and began promoting education reform as one of his administration's major goals, a lot of ideas have emerged for improving America's school system. Suggestions have ranged from promoting charter schools to offering students financial rewards for academic performance. But perhaps some of the most controversial plans have involved finding ways to reward good teaching - and punish bad teaching. Specifically, many reformers are trying to make it easier to simply remove underperforming teachers from the classroom.
Over the past year, more and more politicians have come out in favor of ending the teacher tenure system. And The New York Times reports that, since the beginning of the year, governors in Idaho, Nevada, Indiana, New Jersey and Florida have called on their legislatures to write bills dismantling, or completely eliminating, teacher tenure.
The tenure system in U.S. public schools dates back to the early 20th century. At the time, laws were needed to protect teachers from being fired due to gender, race, cronyism or political views. Today, public school teachers typically earn tenure after two to three years of teaching. While it's still possible to fire tenured teachers, they have the right to due process hearings to ensure that they're being fired for legitimate reasons.
School district administrators argue that the hearing process makes it expensive and time-consuming to fire underperforming teachers. As a result, many ineffective teachers keep their jobs because they're not doing anything flagrant enough to warrant the time and cost of firing them.
Furthermore, the tenure system in many districts also includes seniority protections. This often means that younger teachers are the first to go during layoffs, regardless of their abilities.
Elimination or Reform?
However, there are some positive aspects to teacher tenure. The danger that teachers might be fired for their race or sexual orientation is still real in many areas, and it's important to protect teachers from this prejudice. And in these difficult economic times, some teachers near the top of the pay scale worry that without the tenure system they would simply be fired to make way for younger teachers who will work for a lower salary.
In addition, many teachers argue that the tenure system is what gives them the ability to experiment in the classroom. Some of the most successful teachers use unorthodox methods that aren't always appreciated at first by school administrations. The job security provided by tenure gives these individuals the opportunity to try new techniques without fear of losing their jobs. Many supporters of teacher tenure worry that without such protection, classroom creativity will be stifled.
An obvious middle ground would, of course, be tenure reform. Even the large national teachers' unions have come out in support of changes to the teacher tenure system that tie job security to performance evaluations. For example, last year the American Federation of Teachers endorsed a Colorado law that allowed for the removal of teachers consistently rated as ineffective, even if they're tenured.
But many of the new governors aren't interested in a middle ground. Speaking to the Greater Miami Chamber of Commerce, Florida Governor Rick Scott put it bluntly: 'Good teachers know they don't need tenure. There is no reason to have it except to protect those that don't perform as they should.'
It's difficult to say if the teachers' unions support for tenure reform will provide enough momentum to create a new system adapted to current concerns, or if reform-minded politicians will succeed in eliminating tenure entirely. Without the promise of job security, many talented individuals may choose not to enter the teaching profession. But without some change to the system, many school districts will continue to struggle without an accountability system for poorly performing teachers.
Learn more about the lives of American teachers in these 10 top teaching blogs.