By Laura Allan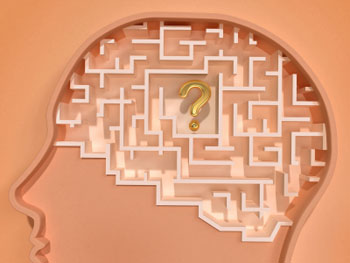 The First Test: Trust Your Instincts
After my first presumptuous try at last week's pretest I decided to start over, treating these lessons as an actual college course. I took notes on what I read, and at the end of every lesson I looked over the PowerPoint presentation of what I was learning. It shortened things into bullet points, which made things easier for me and also made it simpler to take notes on what was really important.
When I finished my second pass of the information, I decided it was time to make another shot at the practice test. This time, I got 85%, a much more respectable score than my last attempt. Now there was nothing left to do but the unit test itself. I put my notes away and began. It was slow-going, but the test said I had 75 minutes to complete it, which was plenty of time. I found I was second guessing a lot of my answers, which should have reminded me of my testing experiences in college, but I didn't think of it then - not until I'd seen my score.
It was 79% this time. I wasn't exactly happy with the score, but it was at least a passing grade. I looked over my answers, a feature that all the tests allow, and noticed that on most answers I had second guessed myself about, I had been right to begin with. Oh, now I remembered all too well how often I'd done this same trick to myself during college. Trust your instincts, Laura; they're more spot-on than you give them credit for.
Unit 2: OK, I Think I'm Getting This
Beginning the next section wasn't much harder than the first. In fact, it was easier now that I knew how to go at it. My notes improved, as did my comprehension of the names I learned. I'd always had trouble linking different names to principles, but for some reason things were getting better now. Piaget, Erikson and all the other names coming at me fell into place like a sort of timeline.
There were fewer videos in these sections, but the few there mostly demonstrated principles such as reflexes or stages in cognitive development. It let me see the things I was reading about firsthand, which helped them make sense to me. There was also a video of a very young Robin Williams on Sesame Street using a shoe to demonstrate alive versus not alive the way children understand it. I was disturbed and amused to realize that I remembered watching this exact segment when I was young, and that it had made perfect sense to me at the time. Remembering some of these principles in my past was a nice added reinforcement of what I was learning.
Honey, That's Actually Not True…
After all this, I was not entirely sure how well I could apply what I had learned. After all, I wasn't exactly going to go be a psychologist so where was I going to use these lessons? How was I going to make them stick in my mind long term? The answer came on a ride home from my parents' house with my husband. We were discussing my cousin's baby, five months old just that week, who I had been playing with earlier. My husband was expressing surprise that the baby seemed to understand that my face was behind my hands when playing peek-a-boo.
'He's not old enough yet to have an understanding of object permanence,' he said.
My ears perked up. Object permanence? I knew that term! I couldn't help but let a smile creep onto my face before I made my reply.
'Well,' I said, 'Studies have shown that Piaget was a little off on the age when children get a sense of object permanence. They can get a grip on all that as young as three and a half months.'
My husband blinked at me, seeming incredulous of what I was saying. I just told him I'd learned that in the course I was taking online yesterday. After a moment of thought he shrugged and accepted it.
'I didn't know that,' he said.
Now I really couldn't help but smile. I may have only gotten a 79% on my last unit test, but the real test had been passed. A basic understanding of my husband's work was all I had really wanted, and now I was saying things that he didn't know before I was even done with unit two. Take that psychology!