By Douglas Fehlen
A Gap in Experience
Veterans often enter the job market under very different circumstances from those of civilian peers. For those not in the military, the 'typical' career path often entails attending college after high school and building experience in a discipline with internships and entry-level jobs. People in the Armed Forces, though, may start their postsecondary training later in life. And while they usually have very significant 'real world' experience, it is often of a different variety than employers are looking for.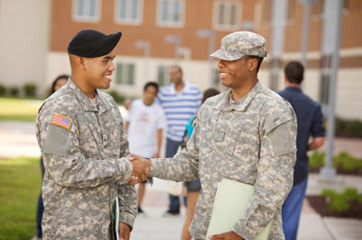 While public employers have long given preference to those who have served, veterans have been at something of a disadvantage in the private sector due to limited career experience. New legislation in Washington State, however, may help to mitigate these potentially difficult circumstances. In April, a law was passed that allows private companies to give hiring preference to veterans over other applicants who do not have military experience. This preference may also be extended to the widows and widowers of veterans, as well as to spouses of select service members who have been honorably discharged after sustaining permanent disability while in the line of duty.
Leveling the Playing Field
State representative Jay Rodne, a Marine Corp veteran, was the lead sponsor of the legislation that allows preferential treatment for those who have served in the U.S. Armed Forces. Upon passage of the bill, he commented, 'We wanted to make sure we had a way to honor our women and men in uniform upon returning from overseas, and this really is a pathway for their reintegration back into society through employment.'
The legislation's passage was aided by the lobbying efforts of Hire America's Heroes. The Seattle-area nonprofit has been a vocal advocate of bringing more military veterans into corporate environments. The group works with companies to help transition veterans (and their family members) into the private sector. 'Why is this needed?' some may wonder. As Hire America's Heroes notes, recent statistics show that Iraq and Afghanistan war veterans ages 18-24 are unemployed at a rate of almost 22%. The 14% unemployment rate among National Guard members is also significantly higher than the national average.
Pioneering Legislation
It remains to be seen whether the Washington legislation will be brought forward in other statehouses. Federal law designed to protect people from discrimination based on race, religion, gender or national origin currently prevents private employers throughout the country from giving preferential treatment to veterans. This is based on the grounds that historically most members of the military have been men, and extending preferential treatment to veterans could be seen as an infringement on women's equal opportunity. The Washington law is possible because fine print in the federal legislation allows local and state governments to okay hiring preference for veterans.
Marjorie James, president of Hire America's Heroes, voiced pleasure that Washington has pioneered the legislation and expressed the wish that other states follow suit: 'We are on a campaign to cut barriers impacting employment of veterans in private business and are proud that Washington has shown leadership at the national level,' she said. 'Hopefully other states will follow this example and make it easier to hire those who have so faithfully served our country.'
Are you looking to enter the job market? Get veteran-specific employment advice on networking, prepping your resume and identifying military-friendly employers.