Medical lab technicians, also known as clinical lab technicians, work in a clinical setting to conduct lab tests and procedures. These positions require completion of a certificate or associate's degree program and on-the-job-training. If you have acute attention to detail and are interested in science and medicine, this might be the right career for you.
What Do Medical Lab Technicians Do?
Medical lab technicians (MLTs) conduct lab tests and procedures, usually under the supervision of more experienced professionals. Duties may include matching blood for transfusions, counting white blood cells, and determining the concentration of prescription drugs in a patient's blood sample. MLTs also help collect and process tissue and blood samples that are used by doctors in diagnosing and treating patients. As a result, medical lab technicians are often employed by hospitals and other medical facilities.
Medical laboratory technicians process patient samples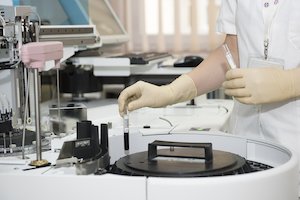 Medical lab technicians benefit from the following skills:
Attention to detail
Confidentiality
Ability to relate to patients and doctors
Organization
Ability to multi-task
Good communication Skills
How to Become a Medical Lab Technician
Most MLTs are trained through certificate or associate's degree programs offered by community colleges and vocational schools. These programs generally require a year or two to complete and include classroom work, labs, and practical training. Graduates may be eligible to apply for certification from professional organizations.
| | |
| --- | --- |
| Required Education | Certificate or associate's degree program in medical laboratory sciences |
| Other Requirements | Optional certification |
| Projected Job Growth (2019-2029)* | 7% for clinical laboratory technicians and technologists |
| Median Salary (2019)* | $53,120 per year for clinical laboratory technicians and technologists |
Source: *U.S. Bureau of Labor Statistics
The steps to become a medical lab technician are as follows:
Choose an associate's degree program or certification program
Graduate from the program
Complete a medical lab technician certification
Apply for medical lab technician jobs
Medical Laboratory Technician Qualifications
Although the U.S. Bureau of Labor Statistics (BLS) notes that medical lab technicians may be trained on the job, the BLS also reports that most receive formal education through a certificate or associate's degree program. The National Accrediting Agency for Clinical Laboratory Sciences (NAACLS) approves these educational programs, which are generally offered by junior colleges and vocational schools. There are also online options for medical lab technician programs.
Medical Lab Technician Course Requirements
You might be wondering how many years for medical laboratory technician training? On average, the process can take between 2 and 4 years. Let's look at what education is needed to get started.
Prospective candidates must earn their high school diploma or its equivalent prior to applying. Some programs recommend that applicants complete mathematics and science courses while in high school. These courses may include:
Algebra
Biology
Chemistry
While certificate programs in medical laboratory sciences generally last one year, associate's degree programs may take 1-2 years to complete. Both programs typically begin by introducing students to medical laboratory equipment and data analysis. Students may also be required to take sequences of courses such as:
Histology
Microbiology
Biochemistry
Phlebotomy
Hematology
Immune hematology
Public Health
Health management
Infectious disease
Healthcare information systems
Students learn techniques for examining bodily fluids and using lab equipment to search for problems with samples. Programs also include clinical practicums, which may include on-the-job training in urinalysis and mycology.
Medical Lab Technician Certification
Once training is complete, students are eligible to earn certifications offered by credentialing organizations, such as the American Medical Technologists and the American Society for Clinical Pathology (ASCP). Certification generally requires passing a qualifying examination. Credentialing organizations may provide exam preparation material via their websites. For example, The ASCP Board of Certification (BOC) is a certification exam that can cover different specializations such as immunohistochemistry, biorepository science, lab informatics and more.
After certification is gained, medical lab technician requirements may include periodic continuing education courses in order to ensure their certification is maintained.
Similar Positions
While the terms medical and clinical are interchangeable in this job title and refer to the same position, the terms technician and technologist/scientist signify different jobs and job responsibilities. The main difference between a clinical lab technician and clinical lab technologist, or clinical lab scientist, is education level. While technicians require a certificate or associate's degree, clinical laboratory technologists and clinical laboratory scientists have completed a 4-year bachelor's degree program. Technologists and scientists also take a different certification exam and are trained to perform more complex and technical laboratory tests. They often supervise technicians in a lab setting, and they typically earn higher salaries.
Employment Projections and Salary
The BLS reports that clinical laboratory technicians and technologists in the 90th percentile or higher earned $81,530 or more per year, whereas the bottom 10th percentile earned $30,920 or less per year, as of May 2019. Employment opportunities in this field are expected to grow 7% from 2019 through 2029, which is much faster than the national average. Job growth is attributed to the need for diagnostic services among the country's growing elderly population.
Medical laboratory technicians work in clinical environments and conduct necessary lab procedures such as blood work. Qualifications for this career typically include a 1-2 year training program and fulfillment of certification requirements.