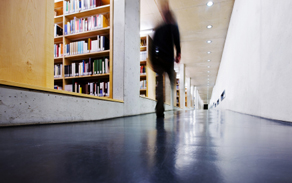 Hard Times for Libraries
After losing $17 million in funding from New York City, the Queens Library laid off 300 employees with the expectation that it would also have to close up to 14 branches. In Los Angeles, a proposed $10 million dollar reduction in funding promises to do even more damage than cuts made last year. Already branches are closed two days a week and more than 100 jobs have been cut.
The Cuyahoga County Public Library, a Star Library near Cleveland, was forced to lay off 41 employees and cut hours after its budget was also reduced by $10 million. The Seattle Public Library closed all of its 26 neighborhood branches for an entire week in one measure to cut 2010 costs by $3 million from its budget following funding reductions from from the city.
It's pretty clear that libraries are going through hard times. And it is not only the nation's largest systems that have been affected. Across the country, cuts in municipal funding have forced libraries in communities of all sizes to cut staff, reduce hours, limit collections or close completely. Library officials are forced into no-win situations in which they can only try to soften the impact on the community. According to a recent study by the American Library Association, libraries in more than 40 states have been forced to absorb more than $50 million in funding cuts.
Library Need Greater Than Ever
Unfortunately, the timing of these cuts could not be worse. The recent recession and still-faltering economy have left city coffers empty, and libraries are seen as targets for funding cuts for politicians because other 'vital' costs must be covered first. But according to recent research, it is precisely during difficult economic times that libraries are most vital to communities. Visits and circulation rose almost 20 percent from 1999 to 2008.
Libraries are so important now because they serve people most affected by downturns in the economy. People who have been laid off are in need of the job service programs and Internet access provided by libraries. Parents who are financially struggling utilize libraries as no-cost entertainment options for children. Libraries also provide essential literacy and community programming that support those who are underprivileged.
Citizens, journalists, literacy experts and cultural commentators alike have voiced alarm in the wake of library service reductions. Unfortunately, calls for change have yet to resonate with policymakers, who continue to make widespread cuts - often without full consideration for what the impact will be on the community. For the time being at least, it appears that libraries will continue to be in peril.
To learn how you can advocate for libraries, visit the American Library Association website.