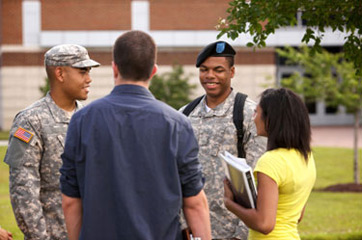 Going Back to School
One excellent option for people who have served in the military is to pursue a postsecondary education. The GI Bill has for decades provided veterans with benefits allowing them to attend classes at the nation's universities, community colleges and vocational schools. The Post-9/11 Veterans Education Assistance Act in 2008 expanded benefits to all of those who have served in the military since the terrorist attacks of September 11th.
Just what educational benefits can you expect as a veteran? Military service members are entitled to have their education expenses covered for up to four years in a higher ed institution. Eligible expenses under the Post-9/11 GI Bill include tuition, school fees, accommodations and other living expenses. Furthermore, the Veterans' Benefit Act of 2010 extends the VA's work-study program, increasing internship and work-study opportunities for military and veteran students.
And veterans don't have to select just any school. The education benefit for a service member has a maximum value of what it costs to attend the most expensive public school in his or her state. This means that military personnel entering college can attend a high-quality institution without accumulating any debt. An added bonus: Students may use an additional $1,000 per year on books and supplies. To figure out what school is right for you, you may want to check out the Military Friendly Schools list of 2011.
Veterans: Ready to start your college career? Don't miss this article on earning college credit for your military experience.
Entering the Workforce
Another option for people who have served in the armed forces is to pursue a civilian career. Employers throughout the country consistently report that military experience is a valuable asset on the job. Traits for which service members are routinely recognized include leadership and a strong work ethic. Additionally, military personnel tend to exhibit loyalty, integrity and a commitment to teamwork.
As a veteran, the career fields in which you might excel are numerous. According to employment experts, there are many opportunities in the energy, aviation and semiconductor industries. Service personnel are also often highly sought for positions in mining, engineering, healthcare and security. But these are only a few of the areas in which you might make your mark. Military experience can be an asset in virtually any career field you choose.
Just as there is help for service members going to college, so too is assistance available for entering the workforce. Military.com has a career center devoted to helping veterans reach their professional goals. You can search for jobs, create and post your resume, network with other veterans and attend career fairs. There's also information on military-friendly employers, a skills translator and job-hunting tips.