What Is a Real Estate Developer?
Real estate developers are entrepreneurs who obtain land, prepare it for development, and manage the construction process. These properties can either be residential or commercial. And, they also spend time negotiating projects and participating in public hearings. Most land developers travel a great deal, with dividing their time between working on their project's site or in the field.
Many real estate developers are self-employed and come from numerous educational backgrounds, making the required skill-sets for success in this field quite varied. PayScale.com reported a median annual salary for commercial real estate developers of $95,253 in February 2020.
Real Estate Developer: Career Information
| | |
| --- | --- |
| Degree Level | Bachelor's degree is standard; some employers prefer MBA |
| Degree Fields | Civil engineering, business, and management |
| Certification | Certification available but not required |
| Experience | 5+ years of experience |
| Key Skills | Excellent communication, leadership, problem solving, interpersonal, analytical, presentation, and project management skills; proficiency in Microsoft Office; the ability to read and understand blueprints; knowledge of construction and architectural design |
| Salary (2020)* | $95,253 (median annual salary) |
| Projected Growth* | Real estate developer jobs are expected to remain stable in the coming years |
Sources: *Payscale.com, *BLS.gov
Real estate developers can manage the construction process for a property.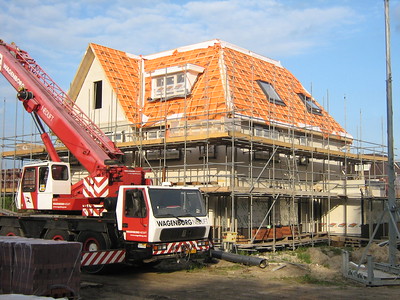 Steps to Be a Real Estate Developer
Let's go over the steps you'll need to take to become a real estate developer:
Step 1: Earn a Relevant Bachelor's Degree
While earning a bachelor's degree is an important step in becoming a real estate developer, this degree doesn't have to be in a specific subject. Several majors include the courses that can help aspiring real estate developers build the skills necessary for the role. Relevant subjects include civil engineering, business, and management. A degree in civil engineering can be valuable since it can help students learn how things are built. Programs in business or management can help students develop logical reasoning skills, critical thinking, and analytical abilities, in addition to learning about modern management practices.
Success Tips for Real Estate Developers:
Develop strong communication skills. Strong communication skills are an essential element needed for real estate developers when interacting with various individuals. To develop and enhance these skills, students can consider courses in communications, English, and public speaking.
Step 2: Gain Experience in Real Estate
Before beginning a career as a real estate developer, many professionals gain experience by working in a related field, such as real estate. One can search for entry-level positions that involve the development, buying, or selling of real estate to gain exposure in the field. Careers in planning or consulting can also help to prepare individuals for a career as a real estate developer.
Success Tips for Real Estate Developers:
Become licensed as a real estate agent. Obtaining a real estate license can help individuals increase their communication and sales experience, as the majority of the work relies on excellent interpersonal skills. In addition, it is important to become familiar with housing prices in the local market to assist in making wiser investment decisions once becoming a developer. Finally, it is a fantastic way to network and find loyal clients while building rapport with other members of the industry.
Step 3: Earn a Master's Degree in Real Estate Development
Master's programs in real estate development can help students learn about the issues that real estate developers frequently face, including design, planning, land use, and environmental regulations. Many of these programs incorporate numerous disciplines, such as city and regional planning, finance, architecture and construction science, public policy, law, sustainability, and management. Students enrolled in a master's program in real estate development can also expect to learn about negotiation, marketing, economics, urban history, and deal structuring in all capacities, including industrial, office, retail, commercial, and residential. Other applicable majors could include community development or urban planning.
Success Tips for Real Estate Developers:
Complete an internship. Many master's programs in real estate development offer students numerous opportunities to gain experience in preparation for their first jobs in the industry. By participating in an internship, students can make valuable contacts and learn how to apply the skills they have learned in a professional context. Mentoring programs may also be available. Through a mentoring program, students work one-on-one with professionals in the industry and learn how they contribute to communities, serve clients, work with peers, and manage their businesses.
Step 4: Earn an ALC Credential
Although certification is voluntary, one can explore the Realtors Land Institute's Accredited Land Consultant (ALC) credential. To qualify, individuals must submit several pieces of documentation. Some of the requirements include an active real estate license, institute membership for at least six months, and a minimum of three years of real estate experience in areas like real estate sales, brokerage, or development. Additionally, applicants must complete courses through Land University and pass an exam. The ALC designation is valid as long as institute membership is kept active.
Success Tips for Real Estate Developers:
Develop your network. Creating links with other real estate developers is a great way to advance in your industry. Attending conferences, joining real estate organizations, and self-promotion are a few ways to grow your network and potentially get more work in the future as your reputation grows.
Step 5: Earn an NAIOP Advanced Study Certificate
Prospective developers who want to commit to learning the industry may want to consider a certificate or continuing education program. The Commercial Real Estate Development Association (NAIOP) has programs resulting in a Certificate of Advanced Study in Real Estate Development and a Certificate of Advanced Study in Real Estate Finance. To achieve these certifications, one must take a required number of courses. These courses range from advanced development practices, real estate law and land use policy, advanced real estate finance, and financial analysis of development projects.
The NAIOP also offers continuing education programs that can help to support and facilitate learning opportunities. Individuals who choose to complete a continuing education program can choose from eight course selections, including advanced finance, site analysis, construction management, and commercial leasing.
To become a real estate developer you'll need to have a bachelor's degree and gain experience in the field.