What Is a Holistic Health Practitioner?
A holistic health practitioner, also called an integrative health practitioner or a wellness practitioner, is a professional who provides holistic health-related services and can include:
Counselors
Doctors
Nurse practitioners
Nutritionists
Therapists
Other healthcare professionals
There are a number of different holistic careers that you might be interested in pursuing. So, what is a holistic health practitioner? A holistic practitioner takes into consideration the whole person, including physical, mental and spiritual aspects, when treating a health condition or promoting wellness. A holistic medicine practitioner may employ complementary methods and alternative approaches to health delivery in their practices.
Some holistic medicine careers are physically demanding, such as physical therapy or massage therapy. Health practitioners may have to deal with demanding or difficult patients and customers, which may require a great deal of patience and tact. Read on to learn more about how to become a holistic doctor or other holistic healthcare professional.
Holistic Health Practitioners: Career Info
Degree Level
Bachelor's, master's or doctoral degree depending on modality
Degree Field(s)
Counseling, nutrition, psychology, physical therapy, bodywork, nursing, naturopathy, massage therapy, acupuncture, herbology, medicine (MD), osteopathy (DO)
Licensure/Certification
All states require physicians and many health-related practitioners to be licensed; holistic health certification also exists
Median Salary (2020)
$66,500 (for naturopathic physicians)
$51,609 (for acupuncturists)
$38,560 (for massage therapists)

Source: PayScale.com
Holistic Health Careers: Steps
Step 1: Earn a Holistic-Health Related Bachelor's Degree
Generally, aspiring holistic healthcare practitioners first choose a healthcare modality and get the proper training in that area, often starting with a bachelor's degree. Holistic healthcare training is available for a wide range of health-related fields. Education and training requirements for these holistic health practitioner positions are as follows:
Herbalism: Completion of a certificate program
Therapeutic massage: Completion of an associate's degree or certificate and certification
Counseling and psychology: Completion of a bachelor's degree in counseling or psychology recommended
Nutrition: Completion of a bachelor's degree program and a Registered Dietitian credential
For those wishing to advance to master's and doctoral degree programs, students must be sure to fulfill prerequisites for graduate programs. For example, medical degree programs require an extensive background in chemistry, physics, biology, anatomy and physiology. Students should research the desired graduate or professional degree program and obtain those credits in their bachelor's degree programs, maintaining the minimum required grade point average in the prerequisite courses.
Step 2: Obtain Graduate Degree
A graduate or professional degree is not necessary for all modalities, but for physicians and many health practitioners, it is a requirement. This can include training in a wide variety of treatment practices like the following:
Acupuncture: Completion of an accredited master's degree program in acupuncture or in Chinese medicine
Nursing and nurse practitioners: Completion of a Bachelor of Science in Nursing, a Master's degree, and sometimes certification
Osteopathy: Completion of a Doctor of Osteopathic Medicine and residency
Naturopathy: Completion of a professional degree and licensure
Physical therapy: Completion of a Doctorate of Physical Therapy and certification
Step 3: Obtain a State License
Holistic healthcare practitioners are not licensed as such. They generally practice under the license of their chosen modality and include holistic practices in their licensed practice. A psychologist who wants to include holistic practices, for example, should first fulfill the requirements to become a licensed psychologist, including passing licensing examinations and fulfilling other legal and professional requirements. Most states require most health-related practitioners to be licensed and to meet certain professional standards before being allowed to practice.
Step 4: Complete a Holistic Health Post-Graduate Program
The prerequisites for holistic healthcare graduate programs vary. The minimum requirement for these programs is typically a bachelor's degree, although some schools simply call for applicants to have earned a certain number of undergraduate credits.
Holistic health practice is based on the concept of treating the whole person (physical, emotional and spiritual) and coursework for these programs reflect that philosophy. Common class subjects include holistic nutrition, culture and community, spirituality, stress, body movement, alternative medicine, herbology, energy healing, psychology and death and dying. Coursework in these programs often combines lecture, class discussion and hands-on learning experiences. Such programs can typically be completed in about one year.
Step 5: Obtain a Holistic Health Care License
The American Board of Integrative Holistic Medicine (ABIHM) offers voluntary holistic care certification for physicians. This credential is only available to MDs and DOs licensed to practice medicine in the United States. Certification requirements include completion of post-graduate medical education and passing an exam that requires broad knowledge of holistic healthcare. The certification must be renewed after five years and requires the physician to have completed 120 continuing medical education hours, with 60 being in integrative holistic subjects. Physicians must also submit a personal growth log, pass an examination and submit a clinical case describing holistic medical diagnosis and management of a patient.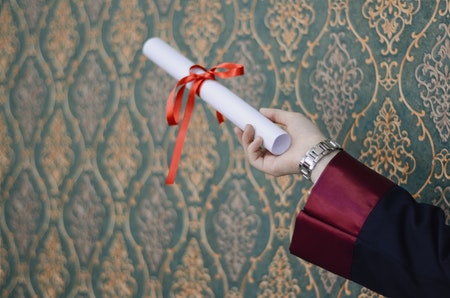 A certified holistic health practitioner may follow various career paths, including naturopathic doctor, nurse practitioner, holistic health counselor, acupuncturist, herbologist and massage therapist. As a result, a holistic health practitioner salary can vary. Education varies from a bachelor's to a doctoral degree and licensure is typically required. As of December 2020, the median annual salary for naturopathic physicians was $$66,500, for acupuncturists was $51,609, and for massage therapists was $38,560, according to PayScale.com.