Dispatcher Job Duties
Interested in learning how to become a dispatcher? A dispatcher is someone who works as a communications liaison for a business or government agency. The job involves transmitting information and assignments to field employees, as well as receiving and recording data regarding the status of a call.
While some dispatchers coordinate the transit of freight or passengers, most dispatchers work with public safety and emergency service units, including police, firefighters, and paramedics. Some stress might be involved with the need to deal with life-or-death situations calmly. Dispatchers often work overtime hours as well. The median annual salary for fleet dispatchers was $46,192 as reported by PayScale.com in January 2021.
It is important to note that dispatchers working for different institutions will likely have different experiences. Becoming a 911 dispatcher, for instance, involves different skills than becoming a police dispatcher or an emergency medical dispatcher. A 911 dispatcher is a person who answers 911 calls and directs those calling to the appropriate services based on the information provided. A police dispatcher coordinates information between 911 callers, police departments, and individual police units in order to direct police to particular locations. Emergency dispatchers are similar to 911 dispatchers, but they typically remain on the phone with those involved in medical or other emergencies until paramedics or other services arrive, often helping those on the line to administer first aid or to remain calm as needed. There are also non-emergency dispatchers, like truck fleet dispatchers who direct truck drivers to head to different locations, usually as part of supply chain management.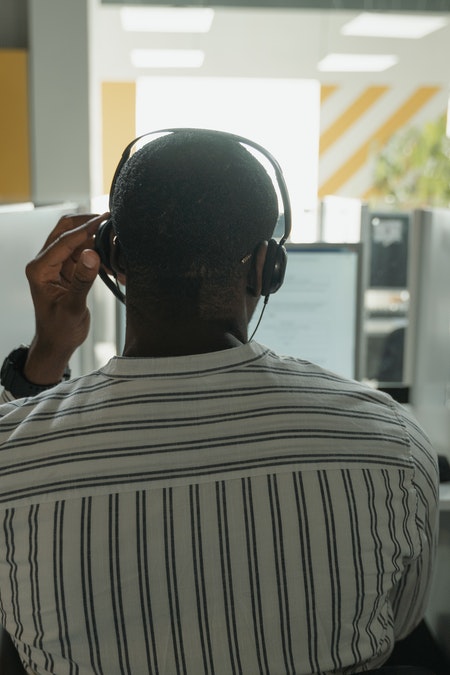 Dispatcher Requirements
| | |
| --- | --- |
| Degree Level* | High school diploma or GED |
| Certification* | Requirements vary by state; emergency, police, and 911 dispatchers generally need certification |
| Experience* | Prior customer service experience may be preferred, although intensive on-the-job training is often provided |
| Key Skills* | Oral and written communication skills, customer service skills, ability to multitask and stay calm under pressure, quick decision-making abilities, knowledge of Computer-Aided Dispatch (CAD) software, typing speed of 30+ words per minute, and communication radio operation knowledge |
| Median Salary (2021)** | $46,192 per year (for fleet dispatchers) |
Sources: *U.S. Bureau of Labor Statistics (BLS), **PayScale.com
Steps to Become a Dispatcher
Let's go over what steps you'll have to take to become a dispatcher.
Step 1: Meet Dispatcher Requirements for Training
A high school diploma or GED is all the education that's generally required for public safety or emergency dispatchers. However, after being hired, a dispatcher must typically undergo several weeks or months of on-the-job training and a probationary period. Trainees learn the various operations for each department, as well as how to handle distraught callers and emergency situations. If you want to learn how to become a 911 dispatcher, you need to be aware that this can be an extremely high stress job in which you will need to be prepared to help people who are experiencing some of the worst moments of their lives. However, the job can also be rewarding.
The U.S. Bureau of Labor Statistics notes that some employers prefer candidates with an undergraduate degree in criminal justice or communication, especially for those interested in learning how to become a police dispatcher. A number of community colleges offer certificate programs for aspiring emergency dispatchers and other dispatchers. These programs usually last 1-2 semesters and cover topics like communications center operations, criminal law, emergency telecommunications, interpersonal communication, stress management, and transcription. They also might include a fieldwork component. In some cases, there will be pre-employment testing for dispatchers; having some formal education can help make those tests easier.
Success Tips for Meeting Dispatcher Requirements:
Become CPR certified. Some states require that dispatchers have CPR certification through the American Heart Association or American Red Cross. Employers also might prefer job candidates with this certification. This requirement is particularly important if you are learning how to become an emergency dispatcher, as you may need to provide first aid or CPR information to those calling for an ambulance.


Develop typing skills. Dispatchers must enter information and updates into a computer system in a timely manner. Many employers require that job candidates pass a typing test at a speed of 30+ words per minute. Instructional typing software is available online, and instructor-led classes are often offered at community colleges. Some colleges award a certificate of completion that may need to be provided to employers.


Prepare for a background check. Many agencies require that dispatchers pass a background check prior to employment. Background checks often include credit reports, DMV records, court records, and prior employment information. Individuals may want to check their own records before applying to make sure there are no problems. While many dispatchers may need to get background checks, this is of particular importance for police dispatcher requirements.


Learn conversational Spanish. Being bilingual may increase chances for employment in areas with a large Hispanic population. Bilingual abilities may also qualify dispatchers for higher pay rates. Spanish classes are usually available through local community colleges. Any other languages that you are able to speak may come in useful too.
Step 2: Earn Dispatcher Certification
Some states mandate certification for public safety dispatchers, especially for emergency, 911, and police dispatchers. Qualifications vary but typically include completion of a training program and passage of an exam. States also might require dispatchers to serve a probationary period before certification is granted.
Emergency dispatchers also can pursue voluntary or mandatory certification through the National Emergency Number Association (NENA). Dispatchers applying for NENA's Emergency Number Professional designation must meet education and/or experience requirements and pass an exam. This is also useful information for those wondering how to get certified as a 911 dispatcher; the jobs overlap significantly. Make sure to look up the requirements in your state to see what you need to do to be prepared for a dispatcher career.
Step 3: Advance Your Career as a Dispatcher
Once experience is acquired through a dispatcher position, employees may have the option of becoming a senior dispatcher. With the right skills, experience, and credentials, this is made possible. There is potential for further advancement in the field by becoming an administrator and focusing on a specific area.
FAQs
What Skills Do Dispatchers Need?
Dispatchers benefit from the following skills:
Excellent communication skills
Patience
Ability to remain calm in a crisis
Clear speaking voice
Excellent bedside manner
Ability to think quickly
Excellent understanding of the required technology
Adaptability
Ability to speak at least one foreign language
What Are the Job Benefits and Challenges?
The benefits to becoming an emergency or 911 dispatcher include:
Knowing that you are directly helping people in a meaningful way
A fast-paced work environment
The possibility of flexible hours
Less risk than other emergency work
The challenges of the job include:
A highly stressful work environment
The possibility of being unable to help people in emergency situations
Working unusual or overnight hours in some cases
What Is the Job Outlook for Dispatchers?
According to the U.S. Bureau of Labor Statistics, police, fire, and ambulance dispatchers (including emergency and 911 dispatchers) can expect to experience around 6% growth in job opportunities between 2019 and 2029. This is faster than the national average, and may be attributed in part to the growing U.S. population.
To become a dispatcher, you'll need at least a high school diploma and on the job training; certification may also be required.