How to Become a Food Inspector
Restaurant health inspectors perform inspections at restaurants and other food distribution and production centers to make sure that food storage and preparation practices meet safety and sanitation regulations. In addition to visual inspections, such workers may take samples of foods and ingredients, as well as samples from surfaces, to make sure that they meet or exceed the health guidelines established for the food service industry. Inspectors complete assessments following incidents or accidents in restaurants and other establishments, which must be cleared before they reopen to the public.
Like many types of inspectors, restaurant health inspectors work full-time. Much of their workload takes place during regular business hours, although some late afternoons, evenings, and weekends are also required for inspections or emergencies. Their time is split between the field and in an office setting. There is some risk of exposure to bad food or other toxins while working; precautions to avoid such risks must be taken. In February 2020, the median annual salary for health inspectors was $52,042 according to Salary.com.
Career Requirements
| | |
| --- | --- |
| Degree Level | Bachelor's degree |
| Degree Field | Environmental health, public health nutrition or science |
| Licensure and Certification | Professional license and certification available |
| Key Skills | Excellent verbal and written communication skills |
| Salary | $52,042 (2020 median annual salary for all health inspectors) |
Source: Salary.com
Food Inspector Skills
The following are a few of the traits and skills that food inspectors need in order to be successful:
Ability to create detailed reports
Ability to follow instructions
Attention to detail
Communication skills
Punctuality
Understanding of food safety requirements
Food safety inspectors must clearly communicate with the employees and managers of a given establishment in order to create a full understanding of existing procedures and necessary changes. They must also be prepared to listen to employee concerns if needed.
Food Inspector Education Requirements
To qualify for a position as a restaurant health inspector, you'll need a high school diploma and a bachelor's degree in environmental health, public health nutrition, or science. Advanced degrees typically aren't required for this profession, though they are available. Professional licensure and certification are also available. As stated earlier, you'll also need excellent oral and written communication skills in order to be successful in this career.
Educational requirements for food inspectors include a bachelor degree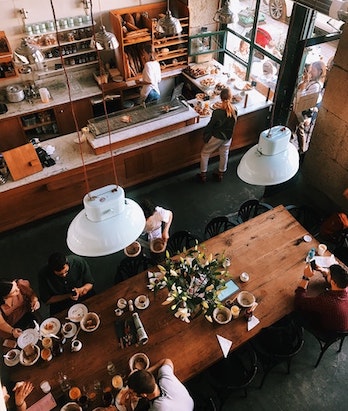 How Do I Become a Food Inspector?
Let's take a look at the steps you'll need to become a restaurant health inspector.
Step 1: Earn a Bachelor's Degree
A bachelor's degree in natural or physical science, biology, chemistry, environmental health, or public health nutrition is often a requirement for becoming a restaurant health inspector. An environmental health degree program typically includes coursework in organic chemistry, environmental toxicology, and microbiology. A public health nutrition degree program covers more specific information about nutrition and biology, while science degree programs provide a more broad range of knowledge. Any of these degree programs can prepare prospective restaurant health inspectors for their careers.
Success Tip
Complete an internship program. Some schools offer internships that can provide students with experience that'll help them stand out in the job market when looking for employment. Students can seek an internship outside of school programs at public or private health organizations, as well as government agencies.
Step 2: Get Certified or Licensed
While not all states require restaurant health inspectors to become licensed or certified, it's mandatory in some. Most city or state health departments offer a certification or licensing program in public health, code enforcement, food service and protection, sanitation, or other related topics that generally include completing a minimum amount of education in the field and passing a written examination.
Step 3: Gain Work Experience
Many jobs don't require previous work experience, and employers may hire candidates with a high school diploma or GED. Some employers train new employees and allow them to work under the supervision of a health director until they become certified to perform all of the duties related to the job. Some common job duties include:
Inspecting food service establishments
Taking food and water samples
Reviewing floor plans for code compliance
Recommending changes to meet health and safety regulations
Reporting findings
Step 4: Opportunities for Career Advancement
Although a graduate-level education is not necessary to pursue a career as a restaurant health inspector, it can be helpful in order to achieve higher-level positions in the field. Universities offer courses such as:
Food biotechnology
Food laws
Microbiology of food
Regulations and the regulatory process
Risk assessment for food
These master's degree programs will not only allow a person to take on more responsibilities at work, but will also broaden their knowledge of a restaurant health inspector career. Many of these programs are offered online.
Remember, to become a restaurant health inspector, you'll need to earn a bachelor's degree and meet any state licensing or certification requirements.
Work Environment for Food Inspectors
Restaurant health inspectors tend to work in a variety of different restaurants in addition to doing some office work. They need to be able to travel to different restaurants in their city or area in order to conduct the required inspections, so a valid driver's license is a good asset to have. While food inspectors generally work full-time hours, not all of those hours are spent in active inspections. Writing reports and scheduling appointments are also important parts of food inspectors' jobs.
Overtime is not typically required for this position, except in times of health crises like the COVID-19 pandemic, in which case restaurants may require more supervision in order to ensure worker and customer safety. In addition to looking at the quality of food produced by a given establishment, inspectors check for labor violations, pests, sanitation concerns, unsafe work practices, and more. All of these factors are part of food safety and all of them impact those who work in these establishments as well as the people who will be consuming the food produced.
How to Get the Job
Getting a job as a restaurant inspector is a combination of having the required experience, making connections, and getting lucky, as is the case with all jobs. When pursuing your undergraduate degree, do what you can to make connections with others working in your field in order to be prepared, upon graduation, to pursue potential employment opportunities as they arise. Positioning yourself as a hardworking and detail-oriented individual and looking for job openings where you live are both important as well.
Career Path and Similar Jobs
There are several similar jobs to that of restaurant health inspector. Those wishing to get into this field may do so by transferring their skills from one of several other jobs, or by studying food safety directly. Related careers include:
Food preparation and shipping
Food science
Public safety
Quality control
Sanitation
Supply chain management
Workplace health and safety
Top Food Inspector Employers
A few major employers of food inspectors in the United States include a number of different major corporations. Government institutions like the U.S. Department of Agriculture and the Food and Drug Administration (FDA) employ many food inspectors. Supermarkets and food distributors hire food inspectors to check the quality of the products that they get from farms and packaging plants. Some food packaging plants also hire their own inspectors. Restaurant associations, local governments, and other food monitoring services hire food inspectors regularly.