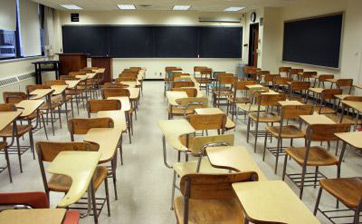 Fears About Foreign Enrollment in the Education Community
The National Science Foundation (NSF) recently reported that foreign enrollment has dropped recently at U.S. colleges and universities. This could have a negative impact on our economy. Not only do foreign students bring in extra tuition dollars, they participate in research and innovation at American schools and often end up becoming contributing members of the U.S. economy. Losing international students to other countries - the U.S. has dominated the market for foreign students in the past, with Great Britain coming in at a distant second - can mean a significant loss of brain power and potential economic growth.
Many people have attributed the shift to the world's struggling economy. Tuition at U.S. colleges and universities is higher than anywhere else, but our schools are also the highest-ranked in the world. When the economy is strong, the tradeoff is worth it for many students. But with the economy weak and many institutions facing their own financial challenges, international students can't afford the costs and fewer schools are offering financing. Add to that the fact that university systems are strengthening in countries like China and India, which previously sent many students to the U.S., and you begin to see why foreign enrollment is dropping here.
In response to worries over changing foreign enrollment patterns, the Council of Graduate Schools (CGS) launched a multi-year study in 2004 of trends in international graduate applications, admission and enrollment. Each year they survey CGS members institutions in three phases: initial applications (phase I), final applications and initial admission offers (phase II) and final admission offers and enrollments (phase III). The CGS recently released data from phase II of the 2010 survey. They found the largest increase since 2007 in the number of international applications received by U.S. grad schools, and the largest total number of international applications since 2003.
Are International Applications Turning Around?
According to the CGS, graduate applications from prospective international students have actually increased slowly over the past five years. In 2005-2006 they jumped by 12%, then 9% in 2006-2007, 6% in 2007-2008 and 4% in 2008-2009. It's primarily this steady decline in the annual increase that alarmed the NSF, who expressed concern that American schools won't be able to regain that ground. However, the latest CGS report can help allay those fears: The increase in applications for 2009-2010 was back up to nine percent. (This is slightly higher than the 7% reported in phase I, which only measured initial applications.)
The organization also tracks specific data on four key 'sending' countries and regions: India, China, South Korea and the Middle East and Turkey. India, China and South Korea, the top three countries of origin for international students, collectively account for half of all foreign students attending U.S. graduate schools on temporary visas. Although the Middle East and Turkey only make up 6% of all international students, the CGS includes the region because of its 'geopolitical importance.'
In the current survey, they saw little or no growth from India and South Korea, but large gains from China and the Middle East and Turkey. Applications from Chinese students increased 20% in 2010, the fifth straight year of double-digit growth from China. Applications from the Middle East and Turkey, a region that has also experienced double-digit increases for five years, also grew 20% this year.
The survey also breaks down applications by field of study. Applications increased for fall 2010 in the three fields in which the majority (62%) of international students are enrolled: Business, engineering and science (including math and computer science). Life sciences, social sciences and psychology account for another chunk of international students. While there was almost no increase in life sciences applications, social sciences and psychology saw an 11% increase for fall 2010. The remaining fields - education, arts and humanities and 'other' - make up for a very small fraction of foreign enrollment, but all saw small to moderate increases in applications for fall 2010.
Foreign Student Admissions Offers Increased in 2010
Perhaps reflecting financial troubles at home, offers of admission have seen much smaller annual increases since 2005-2006, when they jumped 14%. In 2006-2007 they climbed 7%, 2007-2008 only 3% and in 2008-2009 they actually fell, although only by one percent. This year's figures offer prospective international students a little bit more hope - offers of admission climbed again for 2009-2010. It was a modest gain of 3%, but there's always the chance that it might indicate a positive change in recent trends. Final numbers from the phase III survey may even be higher.
Broken down by country of origin, admissions trends followed the same pattern as applications: declines in offers to students from India and South Korea and double-digit increases to students from China and the Middle East and Turkey.
Admissions trends by field of study also showed the same overall modest increases as applications. Only two fields, education and life sciences, saw no increase in admissions offers or a decline, respectively. Business was the field with the largest single increase by far at eight percent, double the increase it had last year.
U.S. Students See Small Drop in Offers of Admission
Although the primary focus of the CGS study is on international students, each phase asks participants to respond to a few questions regarding 'critical issues in graduate education.' For phase II 2010, the organization asked participants two questions regarding domestic graduate students: How many applications were received from U.S. students for graduate programs in fall 2009 and fall 2010, and how many offers of admission to these programs were granted to domestic students for fall 2009 and fall 2010.
They found that, overall, the number of applications from U.S. students to American graduate programs increased 9% between fall 2009 and fall 2010, the same as foreign students. The increase was roughly equal at public (9%) and private, not-for-profit (8%) institutions.
However, offers of admissions to U.S. students actually fell 1% between fall 2009 and fall 2010. Again, this was roughly equal between public (1%) and private, not-for-profit (2%) institutions.
Although it was only a slight decrease, it's interesting to compare it to the 3% increase in offers of admission to international students. The CGS notes that the reason for the difference is unclear, but it does caution that the admissions numbers for American students in phase II are less final than those for international students. Some institutions continue to admit students over the summer, but due to the complexities of getting a visa, few international students pursue applications this late in the game. In phase III the number of final offers of admission for American students may end up being flat from last year, or even slightly up.