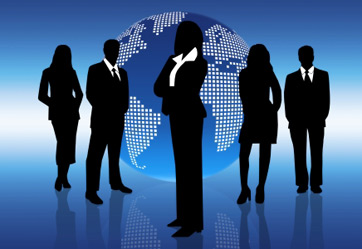 The Hottest Companies for New Grads
Are you one of the thousands of brand new college grads still searching for a job? Forbes just ranked 2010's top 10 companies for recent graduates, based on entry-level hiring projections gathered by a college job search service. If you're looking to break into the workforce, these are the companies with the most jobs to offer:
1. Verizon Wireless
This telecommunications company expects to hire for 10,500 entry-level positions this year. That's 3,000 fewer entry-level jobs than last year, but the company still tops the list. This year's jobs are in customer service, IT / networking, sales and, depending on your qualifications, professional business.
2. Enterprise Rent-A-Car
Everyone knows their slogan: 'We'll pick you up.' Well, if you're looking for a job in the vehicle renting and leasing industry, Enterprise might pick you up - as a new hire. They expect to hire for 8,000 entry-level positions this year, growth that Forbes partially attributes to their recent acquisition of the National and Alamo rental car brands. Enterprise starts most new employees in their Management Training Program, with quick opportunities for advancement into accounting, IT and other administrative and customer service positions.
3. Hewlett Packard
Hewlett Packard (HP), which specializes in computers and office equipment, is the top computing company on the Forbes list with 5,067 projected entry-level hires. If you're just finishing your master's degree, take note: Forbes also lists HP as third in the ranking of top master's-degree employers in 2010. Hewlett Packard hires in a broad range of categories, from advertising to sales to technical support.
4. Teach for America
Interested in nonprofits or education? Teach for America will give you the opportunity to get into a classroom without a teaching certificate. The company expects to hire 4,500 entry-level positions this year. Also, because Teach for America is part of AmeriCorps, applicants who haven't already worked for AmeriCorps are eligible for benefits such as loan forbearance, loan cancellation (upon completion of a 2-year teaching commitment as well as meeting other conditions) and an additional financial award at the end of service that can be used toward future education expenses or to repay existing (qualifying) school loans.
5. Peace Corps
Like the idea of nonprofit service, but want to add a little international adventure to your experience? Check out the Peace Corps, which expects to hire about 4,140 entry-level employees this year. Although Peace Corps employees are technically 'volunteers,' they receive a monthly stipend and have living expenses covered during service. You'll also get travel expenses, vacation time and deferment of student loan payments. If you have a Perkins loan, you may even be eligible for partial loan cancellation.
6. Hertz
With a large national presence and lots of entry-level positions, the rental car business is booming for new college grads. Hertz, another automotive leasing and rental company, expects to hire 3,500 entry-level employees this year. That's 500 more positions than they created in 2009. Opportunities at Hertz include counter sales, management training, vehicle transportation and car maintenance and mechanics.
7. Ernst & Young
This professional services company expects to hire 1,977 entry-level employees. Ernst & Young is a great company for new business grads - they describe their role as helping companies 'reach their goals by providing assurance and advice,' and hire in four major areas: Advisory, Assurance, Tax and Transaction Advisory Services.
8. KPMG LLP
KPMG is another professional services company that would be a great place to start a career in business. They expect to hire 1,750 entry-level positions in areas such as Audit, Tax and Advisory. KPMG also offers a range of global career opportunities for individuals who are interested in travel or want to learn more about international business.
9. Target
Want to get into the retail business? Target is offering 1,700 entry-level positions this year, with lots of room for mobility. Entry-level salaried positions are typically paid internships that offer training in team leadership and operations. Hourly positions are also available in administration in their corporate offices and customer service in stores.
10. General Electric
General Electric (GE) is one of the biggest energy companies in the U.S. They expect to hire 1,600 entry-level employees, and Forbes also ranks them #2 in internship hires for 2010. Depending on your qualifications, entry-level jobs at GE can include field services, contract analysis, engineering, payroll, accounting, archives and much, much more.
Don't miss our How-To Get Hired Tips for college students and recent grads.
Get Experienced
Recent grads and current college students can both benefit from the experience - and connections - offered by professional internships. However, the world of internships can be dangerous - beware illegal, unpaid internships and other businesses seeking to exploit eager young labor. Forbes and Vault put together a list of the top 10 internships of 2010 based on pay, perks, training, mentorships and opportunities for a 'real' job at the end of the program. Check out the programs below, and find out how they stack up against Business Week's end-of-year look at 2009's best internship opportunities.
Capital Fellows Program
Based in Sacramento, California, this program offers students a chance to learn about public policy and government through a hands-on experience working for the government in one of the biggest states in the country. They hire 64 interns per year, pay just under $2,000 per month and offer academic credit in addition to basic benefits. Expect this position to last from October through September.
For 2009, Business Week rated professional services company Deloitte as the number source for student internships. They hired 2,233 interns and had a great intern-to-hire rate: 70% of their entry-level hires in 2009 were former interns.
2. Garmin International
This Kansas-based GPS company hires 50 interns over the summer (12-14 weeks), and expects to hire more for longer fall and spring opportunities. Interns at Garmin are paid and receive housing and a range of other benefits, including accrual of time off and holiday pay.
KPMG (see above) came in as #2 for Business Week's best 2009 internships. They hired 1,745 interns in 2009 and expect to hire 1,700 in 2010. A whopping 91% of their entry-level hires in 2009 were former interns.
3. General Electric
GE is so big it's no surprise that they made the top 10 for both jobs and internships. They typically hire 2,300 interns annually, with 1,800 of those positions concentrated in the summer. Pay is a weekly stipend that varies based on your year in school and they offer academic credit, relocation and housing assistance and accrued vacation time.
Ernst & Young (also see above) came in at #3 for Business Week in 2009. They hired 1,971 interns in 2009 and planned to hire 1,800 in 2010. About 60% of their entry-level hires in 2009 were former interns.
4. Google
This incredibly popular web company offers a working environment that's as cool as their name: In addition to a competitive salary, paid interns get access to gourmet meals, massage therapy, dry cleaning, bike repair, a hair stylist and, just to top things off, a car wash and oil change. Most Google internships last three months.
Number four in Business Week's 2009 list was Proctor & Gamble. They hired 496 interns in 2009 and expected to hire 500 in 2010. Only 36% of their entry-level hires in 2009 were former interns.
5. Inroads
This nonprofit company specializes in increasing opportunities for minority students. They offering in-house training and will arrange internships with companies such as Boeing, Deloitte, MetLife and Target. They hire 3,000 interns and pay can range from $10 per hour to $30+ per hour. Some of their internships also offer academic credit and housing benefits.
Business Week listed PricewaterhouseCoopers as their #5 internship for 2009. This auditing and accounting company hired 2,278 interns in 2009 and projected 2,175 intern positions for 2010. Sixty-nine percent of their 2009 entry-level hires were former interns.
6. J.P. Morgan Investment Bank
The financial services industry may be taking a hit in popularity, but it's still offering some of the most jobs - and internships - of any field. J.P. Morgan hires 350 summer interns, offering competitive pay and incentive bonuses, corporate discounts, overtime meals, car service and even your own company Blackberry for the summer.
Business Week also listed a financial services company at #6 for 2009, but they picked Goldman Sachs. The company hired 666 interns in 2009, and 78% of their entry-level hires for that year were former interns.
7. KPMG
This company just keeps cropping up! In addition to their over 1,700 entry-level jobs in 2010, they're hiring 1,000 summer interns and 450 winter interns. These paid internships typically focus on accounting, and you can even get one in their global markets.
Target hit #7 for Business Week's 2009 list. They hired 911 interns in 2009 and hoped to hire 1,000 for 2010. Only 15% of their 2009 entry-level employees were former interns, although Business Week doesn't specify if this includes all beginning positions or just the corporate ones where students can intern.
8. Nickelodeon Studios
Love television and animation? Check out Nickelodeon's animation studios in Burbank, California (just outside LA). They hire 30 interns in the fall, spring and summer for 2-3 days per week. It's worth noting that they only offer academic credit, not pay, but the experience and connections may be worth it for someone who wants to go into television, especially because the hours are flexible enough to work a second job.
UBS, another financial services firm, came in at #8 in Business Week's 2009 list. They hired 184 interns in 2009 and an impressive 92% of their entry-level hires that year were former interns.
9. Smithsonian Institution
Are you interested in American history, culture or museums? The Smithsonian hires 1,300 interns in New York, Washington D.C. and Panama. Most programs are 10-12 weeks, and only some are paid.
Business Week gave Accenture the #9 spot in their 2009 list. Accenture offers management consulting and technology outsourcing services, and they hired 122 interns in 2009 with a projected group of 150 interns for 2010. Only 22% of their 2009 entry-level hires were former interns.
10. Steppenwolf Theater Company
If you're interested in professional theater, this could be the opportunity for you. This Chicago-based organization hires 39 interns. Summer internships are unpaid (with academic credit), but apprenticeships and fellowships are paid and offer limited benefits and housing and transportation stipends.
General Electric pops up again as #10 in Business Week's top 2009 internships. GE hired 3,060 interns in 2009 and planned to hire 3,100 for 2010. Seventy-eight percent of their 2009 entry-level hires were former interns, which is an impressive proportion for such a huge company.