A fashion design teacher combines a passion for clothing and accessories with a classroom environment, where they guide students in topics such as sewing, patterns, and trends in fashion. Having prior industry experience and a professional portfolio are both essential for fashion designers who want to teach, and a bachelor's degree in a related field is also mandatory. State licensure is needed for any fashion teacher working within the public school system, while a master's degree or higher is required for teaching jobs at a postsecondary institution.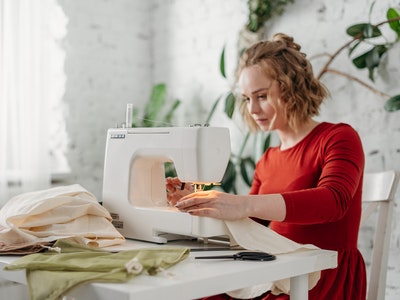 Essential Information for Fashion Teachers
Fashion design teacher jobs require both strong fashion sense and communication skills. As fashion designers, teachers have a passion for creating the best clothes or accessories for any occasion. As instructors, they demonstrate strong verbal skills and understand the needs of students from all backgrounds. Fashion design teachers are required to have bachelor's degrees, and they may also need master's degrees in order to teach college-level classes.
| | |
| --- | --- |
| Required Education | Bachelor's degree; master's degree to teach at a postsecondary school |
| Other Requirements | Industry experience, professional portfolio; licensure for public high school teachers |
| Projected Job Growth (2019-2029) | 4% for all high school teachers; 9% for all postsecondary teachers* |
| Average Salary (2020) | $67,340 for all high school teachers; $84,780 for all postsecondary art teachers* |
Source: *U.S. Bureau of Labor Statistics
Fashion Teacher Education Requirements
High School Diploma or the Equivalent
According to the U.S. Bureau of Labor Statistics (BLS), a fashion teacher must hold a bachelor's degree and possibly a master's degree in order to teach (www.bls.gov). A student should receive a high school diploma or its equivalent in order to apply for college or an art school.
Many art schools ask for portfolios of students' best artwork in order to determine the level of the student. A student may wish to take elective classes in art in order to craft a portfolio. Some students may also wish to take college-level classes in order to receive college credit in the future.
Undergraduate Degree
While it is possible for a fashion designer to get an associate's degree, a fashion teacher is required to achieve a bachelor's degree. Students can pursue a Bachelor of Arts or a Bachelor of Fine Arts with a concentration in fashion or fashion design.
Some typical coursework will include the following: textiles, illustration, sewing, draping and marketing. A fashion design teacher may also take courses on computer-aided design (CAD) applications. Additionally, a potential fashion design teacher can take liberal arts courses like speech in order to help them communicate effectively. Classes in business and anatomy may also be helpful.
Graduate Degree
In order to teach at the postsecondary level, fashion teachers must have master's degrees. A Master of Arts or a Master of Fine Arts program typically lasts for two years, and the coursework can vary depending on the school's program. Some universities require their professors to have a Ph.D. degree in order to teach. Doctoral programs typically take about six years. Students are required to complete a dissertation.
Fashion Design Teacher Jobs
Work Experience in the Field
Many employers prefer teachers to have prior experience in the field of fashion design. Employers may also require previous teaching experience. An aspiring fashion teacher may have to be an entry-level assistant for more experienced designers before advancement. A fashion designer can work as a tailor or an intern for a manufacturing company and can also start his or her own company.
Fashion Design Teacher Job Info
Once fashion designers have gained enough experience, they can get fashion or textiles teacher jobs in either secondary or postsecondary settings. However, a fashion teacher must be licensed in order to teach at a public high school. Alternatively, a fashion teacher must have a master's degree in order to teach at the university level. Some postsecondary universities may also require their tenured professors to have Ph.D. degrees.
The BLS reports demand for high school teachers is likely to increase by four percent between 2019 and 2029, and postsecondary art teachers may see an 9% increase in demand over that decade. The mean salary for secondary school teachers was $67,340 in May 2020, and all arts, drama and music postsecondary teachers earned a mean salary of $84,780 that year, according to the BLS.
Traits
Teaching jobs require you to be able to communicate effectively to students, above all else. Fashion teachers also must be able to understand their students' needs and know how to best motivate them. Fashion design teachers should be able to demonstrate sewing skills, understand fashion trends and understand patterns for the benefit of their students.
While earning a bachelor's degree, fashion designers generally take classes in topics like illustration, draping, marketing and textiles; a master's degree usually takes about two years to complete, while a doctoral degree program can last for six years. Both high school and postsecondary teachers are expected to see positive growth in employment opportunities through the 2019-2029 decade, according to the BLS.