By Douglas Fehlen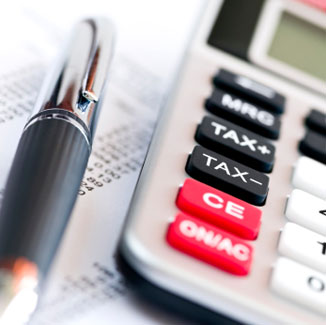 Credit of a Different Kind
You're used to getting college credits in the classroom. As a student, you're also eligible for tax credits. These financial benefits from the IRS can help limit tax bills and increase the likelihood that you or your family will receive a refund. An American Opportunity Tax Credit of up to $2,500 can be applied to expenses for tuition, school fees, books or supplies. This incentive is available to students who are enrolled at least half-time in the first four years of postsecondary education. The full credit is available to families with a gross income of under $80,000, or $160,000 for married couples filing jointly. Students not qualifying for the American Opportunity tax credit may be eligible for the Lifetime Learning Credit. This credit of up to $2,000 can be applied to any accredited education program that results in students earning a degree or improving job skills. The full credit is available to students from households with a gross income of under $60,000, or $120,000 for jointly filing married couples.
There are some important restrictions that relate to higher education tax credits. First, students may not claim both the American Opportunity and Lifetime Learning credits. They may apply only one or the other. Second, tax credits can be claimed by only one tax filer. This means that if parents claim you and your higher education credit on a federal tax return, you cannot also claim the credit. Financial analysts suggest that in many cases it makes the most sense for parents - not dependent students - to claim college-related tax deductions. This is due to the fact that individuals enrolled in school typically make significantly less than parents - potentially limiting the impact of a credit. Parents claiming the credit are likely to receive the full financial benefit intended.
Deductions for Students
Credits are not the only way for students and their families to register tax savings this time of year. Individuals from households with an adjusted gross income of $80,000 (or $160,000 for a married joint filing) are eligible to have up to $4,000 in tuition and school fees deducted from their taxable income. It's important to note that this deduction cannot apply to college expenses paid with funds from a 529 plan or another college fund that allowed income to be deposited untaxed. Another thing to remember: students and parents who want to take advantage of one of the aforementioned tax credits cannot also claim this deduction. You and parents will have to weigh which tax benefit will yield the greatest financial gain.
Another tax deduction is available to college students (and graduates), and this one can be taken in addition to the tax credits and deductions mentioned above. If you have begun to pay on any student loan, interest remitted on the principle can be deducted to reduce your taxable income by up to $2,500. Payments on federal student loans are not typically due until after graduation, so this deduction won't apply for all lending students. (Learn about important changes made to federal student loans last year.) For those who have taken out school loans that must be paid back right away, interest payments made in 2011 can yield serious tax savings now. This student loan interest deduction is available to students from households of below $75,000 (or $150,000 for joint return). You can get additional details and other tax information for students at the IRS website.
Need another way to save some money? Learn how to skip buying textbooks and still earn an A.