Becoming a Lawyer
Lawyers advise clients in legal matters. Also called attorneys, lawyers may advocate for their clients and defend them in court. These roles require lawyers to have extensive training in legal procedure, writing, and research. The type of education needed for a lawyer includes finishing an undergraduate degree, completing law school, and earning a Juris Doctor (J.D.). Beyond the education required as a lawyer, all lawyers must pass their state's bar exam to practice.
Lawyers play a key role in the U.S. legal system and must complete multiple education requirements.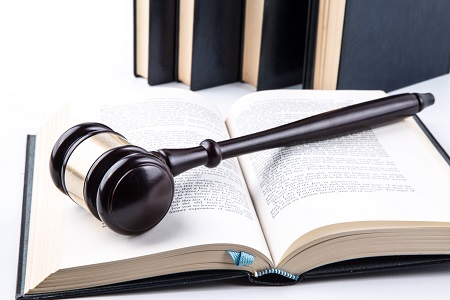 Lawyer Education Requirements
What education is needed to become a lawyer? Law school is the centerpiece of the education requirements for a lawyer. Schooling for lawyers starts with completing a bachelor's degree program, followed by taking the Law School Admission Test (LSAT), as these two steps are key to applying to law schools. Applicants wanting to specialize in a particular field of law may consider an undergraduate degree in that field. For example, students who want to become tax attorneys might study accounting, while those interested in environmental law may consider majoring in environmental science. Some universities also offer pre-law programs which help prepare students for what type of education is required for a lawyer.
What do you need to study to become a lawyer? While no particular field of study is required for applying to law school, aspiring lawyers should hone their reading, speaking and argumentation skills while in college. Courses in political science and English may help students advance these skills and provide a medium for presenting facts and arguing positions. Students may also use these classes to strengthen critical thinking skills and prepare for the LSAT, the test used by law schools in accepting applicants. Because law school is one of the main educational requirements for a lawyer, preparing for the LSAT is a major focus of law students.
LSAT Description
The LSAT is a difficult test which is usually a major step toward completing the education required to become a lawyer. Undergraduate students who are enrolled in a pre-law program or are otherwise planning to enter law school spend a significant amount of time studying and preparing for the LSAT. There are four main sections to the LSAT:
Logical reasoning
Reading comprehension
Analytical reasoning
Writing sample
The first three sections are taken as multiple-choice tests, and those taking the test have 35 minutes to complete these sections. The logical reasoning sections tests one's ability to analyze arguments and conduct critical thinking. The reading comprehension section has four sets of reading questions which test the test-taker's ability to quickly read, understand, and answer questions about a passage. The analytical reasoning section tests one's skill at understanding, applying, and interpreting the outcome of a given combination of facts and rules. The writing sample measures one's ability to make a clear and effective argument in writing; thus, this section is unscored and is not about finding the 'correct' answer.
Law Degree Requirements
Law school students typically study for three years and earn a Juris Doctor (J.D.) degree at the end of the program, the completion of which shows that someone has the completed the education needed to be a lawyer. There is no mandated or standardized curriculum, but most law schools provide a comprehensive overview of the field, with courses from civil procedure to property law. Students learn legal writing and are taught to conduct research in legal libraries and online.
After the first one-and-a-half years, students may begin enrolling in specialized courses like environmental law or bankruptcy law. Students may also apply for externships that allow them to observe and participate in daily legal procedures. Additionally, most programs offer law clinics in a particular field, such as environmental law, in which students work with attorneys to research precedents and meet with clients.
Gaining Admission to the State Bar
After completing the education required for a lawyer, including the J.D. degree, law school graduates must take and pass the bar exam for the state or U.S. territory in which they plan to practice. Depending on the jurisdiction, the bar exam may consist of several different tests, such as the Multistate Essay Examination (MEE). Most jurisdictions also test applicants on their knowledge of appropriate professional conduct.
Salary and Job Growth
The U.S. Bureau of Labor Statistics (BLS) estimates a 4% job growth for lawyers in the years 2019-2029. The BLS also indicated that lawyers earned median salaries of $122,960 as of May 2019.