By Douglas Fehlen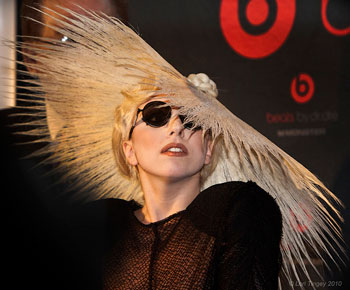 Pop Culture Invades the College Classroom
Students at the University of Virginia can take a course in which they listen to the songs and watch the music videos of Lady Gaga. But the class isn't meant for entertainment. 'GaGa for Gaga: Sex, Gender and Identity' covers the title topics while examining the enigmatic performer's influence in culture. This course is by no means an outlier: Many other U.S. colleges have classes that feature Lady Gaga, including Wake Forest, Arizona State and the University of South Carolina.
And Lady Gaga is not the only pop culture icon to make the crossover to academia. Many performers, films and television shows have been made the subject of college courses. Georgetown has a class called 'Philosophy and Star Trek,' and Yale features 'Christian Theology and Harry Potter.' Middlebury College offers 'Watching The Wire,' and MIT has a course called 'American Pro Wrestling.' Lil' Kim, Twilight, 2Pac, The Simpsons, Bruce Springsteen and South Park are only some of the other pop culture phenomena to get their own classes.
Popular Culture Studies Gaining Legitimacy
Pop culture has become a fixture in college classrooms, and not merely in the presence of one-off 'novelty' classes. On many college campuses, the value of scholastic inquiry into pop culture phenomena is widely accepted. Bowling Green has a Department of Popular Culture and offers a pop culture major. Some classes in the academic program include 'Popular Entertainments,' 'Youth in Popular Culture,' 'Black Popular Culture' and 'Contexts of Popular Music.'
Western Kentucky University also features a popular culture studies major. Students enrolling in the program have the opportunity to 'examine the multiple uses and meanings of the arts and culture of everyday life' through 'innovative interdisciplinary coursework.' Some colleges do not feature majors in pop culture, but they do offer minors. Ohio State, Virginia Tech and USC are only a few examples of widely respected schools that offer a minor in pop culture.
Dissenting Views on Pop Culture Studies
Opinions vary considerably on whether pop culture merits inclusion in academia. Some higher education observers suggest that offering classes on pop culture phenomena is a misguided attempt to increase student interest. Others believe that such courses represent a frivolous ploy to garner attention for an institution. Still others say that classes on pop culture subjects are often nothing more than an opportunity for professors to explore pet areas of study and that students gain little from them.
While many college faculty members are against pop culture classes, some academics assert the importance of such study. Advocates affirm the value of sociological concepts developed in the second half of the 20th century, methodologies that can help explain mass media's influence in society. They believe academics have made valuable findings in the field of cultural studies that demonstrate the importance of critically examining culture. That work should continue, supporters say, so that we can fully appreciate the influence of Lady Gaga and other pop icons of the day.
Do you want to expand your study of culture to another country? Learn ten reasons to study abroad.