What is a Certified Cardiographic Technician?
A certified cardiographic technician is a medical professional that works with cardiologists to treat cardiovascular patients in medical settings. Training programs for cardiographic technicians, also known as echocardiographic (EKG) technicians, are available at community colleges and technical schools. Graduates can pursue professional certification as a Certified Cardiographic Technician (CCT) by passing an exam, known as a certified cardiographic technician certification.
| | |
| --- | --- |
| Degree Required | High School Diploma plus on the job experience and certification |
| Field of Study | Cardiology or related science |
| Certification | Certified Cardiographic Technician Exam |
| Responsibilities | Assisting doctors in treating cardiovascular patients including administering EKGs |
| Job Growth from 2019 - 2029 | 5% |
| Annual Median Salary as of May 2019 | $57,720 |
Job Duties
The main job duties of a certified cardiographic technician include assisting doctors with cardiovascular patients. The certified cardiographic technician educates and prepares the patients for EKG exams and then places electrodes on the patient to conduct the exam. The certified cardiographic technician records the output of the electrodes while the patient does different activities and then creates a printed report for physicians. Certified cardiographic technicians deal with cardiovascular patients and the results of the EKG may be extremely important to the patient's health. Results should be communicated clearly and accurately to physicians.
certified cardiographic technicians carry out EKGs to monitor heart patients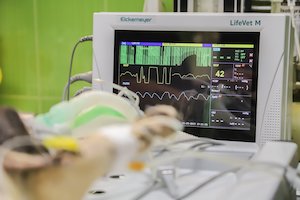 Work Settings
Most certified cardiographic technicians work in a hospital setting. They may work specifically in a cardiovascular care unit and deal with a specific set of patients. As of 2019, about 79% of certified cardiographic technician worked in a hospital setting according to the Bureau of Labor Statistics (BLS). However, they may also work in outpatient care facilities or physician's offices.
Personal Skills
Although only a high school diploma is required to start the journey in a career as a certified cardiographic technician, there are several personal skills that benefit candidates as well:
Good oral communication
Good written communication
Empathy and a desire to work with patients
Ability to work with medical professionals
Medical terminology
Attention to detail
Responsibility
Teamwork
---
Steps to Become a Certified Cardiographic Technician
Candidates looking to become a cardiographic technician only require a high school diploma or equivalent to get started. You can become a certified cardiographic technician online or in person through a certification program.
Cardiographic Technician Certification
Some schools offer post secondary certificate programs in cardiography that can take about one year to complete. Applicants to certificate programs must have a high school diploma. Some schools suggest that interested students meet with an adviser or take part in a program orientation prior to applying. Applicants usually need to have completed a prerequisite course in anatomy and physiology. Additionally, prior to starting a cardiographic certificate program, accepted students may need to become CPR-certified and obtain student liability insurance. Students in a cardiographic technology program take part in skills labs where they learn to monitor a patient's heart for abnormalities, performing such procedures as telemetry tests and 12-lead echocardiograms. They are also typically required to complete a hands-on practicum and take classes covering:
Healthcare terms
Pathology
The human cardiovascular system
Patient care techniques
Basic computer skills
Further Education
Cardiographic technicians may decide to become cardiographic technologists and continue their education to earn an Associate of Applied Science in Cardiac Technology. Students may also pursue a bachelor's degree in a related science, such as cardiology to further their education. After education, a cardiographic technician needs to become certified.
Training
Cardiographic technicians may also decide to become Certified Cardiographic Technicians (CCTs). To do this, they must pass a multiple-choice exam offered by Cardiovascular Credentialing International (www.cci-online.org). In order to maintain their credentials, a CCT must complete continuing education courses or retest every three years. They must also pay maintenance dues and comply with the organization's code of ethics.
Cardiographic Technician Salary and Job Outlook
According to the U.S. Bureau of Labor Statistics (BLS, www.bls.gov), from 2019 to 2029, the employment of cardiovascular technologists and technicians was predicted to grow by 5% (faster than average). The BLS reported the median annual cardiographic technician salary was $57,720 in May 2019. However, PayScale.com noted in 2020 that certified cardiographic technician salary was between $24,000 and $47,000 per year.
| Pros | Cons |
| --- | --- |
| Increased job growth outlook | Limited salary |
| Limited educational investment to start | May require certification to advance career |
| Dynamic work environment | Work environment can be stressful in a hospital |
Alternative Careers for Cardiographic Technicians
If you are interested in non-invasive medical imagining there are also other careers that could work for you. Some options include:
Diagnostic medical sonographer
MRI technician
Radiographic technologist