By Sarah Wright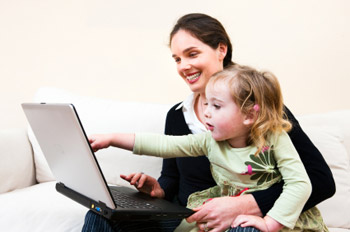 Kids vs. Job
Work/life balance is a frequent topic of discussion in many professional sectors. Plenty of books, articles, pamphlets and workshops are devoted to the issue of striking the right balance of spending time with family and putting in the right amount of effort at work. This is an issue that impacts both genders. Professional men and women may feel that they have to be at work in order to stay on top of things, but may sacrifice important time with kids and spouses in order to do so. But even though both genders struggle with this, the issue of whether having kids is even a possibility is something that tends to weigh more heavily on women.
These days, 'homemaker' isn't exactly the most common life goal for girls. Though there used to be a grain of truth to the 'M.R.S. Degree' joke, very few young women attend college in order to secure themselves a successful husband. Instead, females of all ages are expected to succeed in school and enter the workforce, just like their male counterparts. But the thing that hasn't changed is the fact that many women aspire to be mothers. And though legal and moral protections exist that can allow women to have a baby while pursuing a career, it can seem difficult to impossible to have it all.
Is It Really Necessary to Choose?
Many women feel that they have to choose: you can either give your all to your career, or you can have a well-managed family. Having both seems unrealistic, from a planning standpoint. The time it takes to do one seems to cancel out the other. But the fact is that plenty of women manage to be successful both at home and in their careers. Skeptical 20-somethings need only look to their mothers' generation for proof that it is possible.
Though not all women in the 50-70 age range held careers, many of them did. If you're a young woman wondering whether you can be a good mom while holding down a full-time job, just look to your mother, or your friends' mothers. Chances are that these women managed to attend school, hold and thrive in careers, do a darn good job parenting and stay sane through it all. Some of these women probably even did so as single parents. No doubt that it took a lot of hard work, but it's probably rare that any of these working moms would look back with regret on their choice to take on two full-time jobs.
In Good Company
If the fact that the working mother trail has been quite effectively blazed doesn't convince you, consider the fact that most families today consist of two working parents. The traditional notions of binary parental roles are a thing of the past in most families. These days, it's often possible for fathers to get paternity leave, which, like maternity leave, affords a parent time off of work (with guaranteed job security) in the wake of a new baby's birth. So if you're worried about whether you can succeed as a working mother, know that you're in good company. There are great resources out there that can help you have the best of both worlds.
If you decide to balance parenthood with a career, make sure you take the time to read to your kids.