Is an Interpreter Career Right for Me?
An interpreter translates spoken or signed words from one language to another, which requires fluency in at least two languages. Interpreters may translate foreign languages or American Sign Language, depending on their area of specialization. Interpreters work in various industries, such as government, healthcare, and academic settings. Travel is often involved in an interpreter career.
Interpreter Degree and Career Requirements
A degree is not always required to be an interpreter, but most employers prefer an applicant who holds a bachelor's degree with some formal coursework in interpreting. No license is required either, but voluntary certifications are available. Most employers require experience working in interpreting or a related field. Key skills for interpreters include strong verbal communication skills, fluency in at least two languages, listening skills, and cultural sensitivity. In May 2019, the U.S. Bureau of Labor Statistics reported that the annual median salary for all interpreters and translators was $51,830.
Interpreters are expected to know two or more languages and to translate spoken or signed words, often in live settings.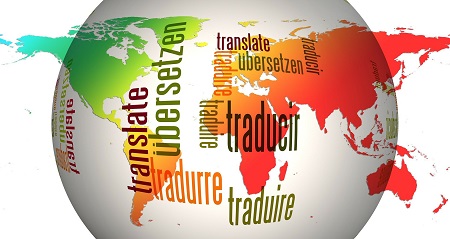 Steps to Become an Interpreter
Anyone wondering how to become a professional translator and interpreter can follow these steps to pursue this career field:
Earn a degree
Attend training
Become a certified interpreter
Continue education
Step 1: Earn a Degree
A bachelor's degree is often necessary in order to fulfill what is required to be an interpreter, and this is especially true for jobs within the government. Those looking for an interpreter major can look to the degree programs which focus on interpretation and translation. Majors in foreign languages or in linguistics are other possible majors for meeting interpreter school requirements. Furthermore, programs in sign language interpretation are available for those interested in becoming interpreters for American sign language. Some interpreters major in another area, such as business administration, to gain expertise and possibly translate for this professional field. The most important thing is to be fluent in at least two languages by the end of a bachelor's degree program.
Here are some success tips:
Volunteer. Prospective interpreters can benefit from volunteering to get first-hand experience in the field. Hospitals, organizations, and companies sometimes have opportunities for amateur interpreters to volunteer their services. Not only will experiences like this give aspiring interpreters the ability to hone their skills, but it may also give them an advantage when applying for jobs after graduation.
Take advantage of study abroad opportunities. Some colleges and universities offer study abroad options to students. Taking advantage of such an opportunity could benefit aspiring interpreters by giving them the chance to continue learning a language around native speakers.
Complete an internship. Schools typically offer internships for prospective interpreters. These internships may be paid or unpaid, depending on the institution the internship is completed through. Participation in an internship can serve as work experience to help interpreters find employment after graduation.
Step 2: Attend Training
Many colleges and universities offer formal training for students who want to become interpreters. Community colleges sometimes offer certificate or associate's degree programs specifically focusing on interpreter preparation. Depending on the field, training may also be offered through employers. For example, court and medical interpreters are likely to receive on-the-job training. Additional interpreter training may also require extensive fieldwork hours and interning in the area of your interest.
Step 3: Become a Certified Interpreter
Interpreters can demonstrate their proficiency with languages by taking voluntary tests. The government offers certification through federal and state courts, and the State Department has a series of tests. Other associations, such as the American Translators Association or the Certification Commission for Healthcare Interpreters, offer certifications or exams. Even if they don't qualify as a credential, these kinds of tests prove that a prospective interpreter has significant skill and can be handy to have on a résumé. Some forms of interpreting, such as court interpreting, may require certification.
Step 4: Continue Education
A variety of continuing education options are available to professional interpreters. For example, the National Association for Interpretation offers continuing education training and workshops. Continuing education may help interpreters advance in their careers by giving them experience or even certification in areas like personal presentation or graphic design; having additional skills may allow interpreters to take jobs with more responsibilities.
The steps towards becoming an interpreter include earning a bachelor's degree, attending formal interpreter training, taking an interpreter test, and continuing education.
FAQs
What Skills are Required for an Interpreter Career?
A number of skills are important for interpreters. Beyond having fluency in two or more languages, interpreters need to have effective communication, empathy, patience, and an interest in other cultures.
How Do You Apply for an Interpreter Job?
Before applying to a job as an interpreter, be sure to check the education, experience, and certification requirements of that job, since these can vary from job to job. Meeting these requirements greatly increases the likelihood of a successful application.
How Long Does it Take to Be an Interpreter?
With the steps outlined above, it will usually take about 5 years to become an interpreter. If one pursues a job which only needs an associate's degree instead of a bachelor's, it could take around 3 years to become a professional interpreter.
What's the Difference Between an Interpreter and a Translator?
The main difference between interpreters and translators is that interpreters translate spoken or signed words, often in live settings, while translators take written texts and translate them from one language to another.