What is a Detective?
Vintage Fingerprint Card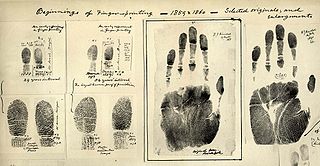 Detectives, who are also called investigators, usually work in law enforcement agencies, although they are not limited to this area. Police detectives specialize in the investigation of different kinds of crimes while police officers are the first responders who arrive on the scene of an incident.
Police Detective versus Police Officer
Police detective and police officer duties have some overlap, and it is important to note that before a person can become a police detective they are expected to serve, in general, five to seven years as a police officer.
Police officers respond to calls that are sent out from dispatch centers. These calls can be emergency calls in which immediate response is necessary or they can be nonemergency calls that the police officers respond as soon as they can. Police officers also monitor traffic safety and write tickets for traffic violations, take charge of traffic accident scenes, do crowd control, arrest and transport offenders, serve warrants, and provide court testimony.
Police detectives, unlike police officers, are called in for specific crimes. They take over and direct the police officers who are the first responders on the scene. The police officers, by the time the detectives arrive, have usually inquired as to whether there are any witnesses and documented basic information from those witnesses, leaving the detectives to do in-depth interviews.
Police detectives and officers collect evidence, and the detectives examine, along with other specialists such as forensic scientists, the evidence for clues. Duties of a police detective generally include interviewing witnesses, victims, and suspects, obtaining warrants to search crime scenes, putting together, along with other specialists and partner agencies, the information into some coherent whole to guide them to a conclusion, and testifying in court.
Police detectives and investigators work full-time and must be on-call for situations that arise outside of normal working hours. Their jobs require heavy contact with the public and involve risk, which includes exposure to blood-borne pathogens and contagious diseases and encountering suspects that are potentially armed and dangerous.
Police Detective Specializations
Police detectives work in specific areas in which they focus on a particular kind of crime. Throughout a police detective's career they will have the opportunity to transitions to different areas of interest. An example of specializations include the following:
Homicide
Special Victims Crimes such as crimes against children, domestic violence, and rape
Crimes committed on the web, such as child pornography
Crimes that involve fraud and other criminal behaviors related to commercial enterprises
Gang related crimes
Robbery and burglary
Undercover investigations
This is just a partial list and law agencies vary from location to location in what they call their areas of expertise and specialties.
Detectives in other Fields
Private investigators typically learn on the job and may need some sort of licensure depending on where they work. Private investigators do not have legal authority and are hired most often by private clients for surveillance and security purposes, to find missing persons, to gather desired information for clients, and do background checks.
Insurance investigators interview and investigate the truthfulness of insurance claims
Detectives for public and private attorneys interview and investigate on behalf of their employer's clients
Store detectives investigate theft and other types of criminal behavior committed inside stores
Computer forensics experts examine cellphones, computers, and other electronics
Detective Requirements
Detective requirements depend on jurisdiction, but there are general requirements that can be applied to the job description as well as expected competencies.
The ability to communicate clearly verbally and in writing
Ability to prioritize and attend to more than one thing at the same time
Job duties require physical and mental stamina
Basic computer skills to include email, data entry and records searches, and writing software such as Microsoft Word
Experience with software for crime scene management, crime information databases, and computer-aided composite drawing
Comfortable with using handcuffs, polygraphs, fingerprinting and in using surveillance equipment
Skills & Personality Traits of the Successful Detective
Before applying to become a police detective, it is a good idea to take inventory of what personality traits and skills will most likely lead to a successful career in this field. Examples of the skills and traits are as follows:
A strong sense of awareness and perception of surroundings and people
Intuitiveness and an ability to use available resources
Assertiveness and confidence to lead
Self-motivated and disciplined
Determination
Highly organized and good at time-management
Non-judgmental and objective
Inclination for problem solving
Empathetic demeanor and active listening skills
Patience when dealing with the public and frustrating situations
Detective Salary Range and Top Paying States
According to the U.S. Bureau of Labor Statistics (BLS), the median annual salary for detectives and criminal investigators in 2019 was $83,170 and opportunities for growth in this field is expected to grow by 5% between the years 2019 and 2029. Those candidates with military experience may have an extra edge when applying for these positions. Keep in mind that salary is often connected to cost of living.
According to Forbes Magazine, the top five paying states for detectives are:
Alaska with an average salary of $113,420.
Hawaii with an average salary of $109,320
California with an average salary of $107,760
New Jersey with an average salary of $103,460
Massachusetts with an average salary of $102,350
How to Become a Detective
Becoming a detective is a multistep process. It is not a career that a person can step into after receiving a degree but one that requires years of training and experience. The steps vary from department to department but typically there are four steps you need to accomplish to become a detective.
Step 1: Earn the Degree You Need to Become a Detective
Police detectives usually begin their careers as police officers. Although a GED or high school diploma may be all that's required for some police officer positions, many agencies require a college degree in criminal justice, law enforcement, or a related field. Both associate's and bachelor's degree programs are available for aspiring detectives and are online in addition to more traditional university or college settings. Students may take courses in criminal law, criminology, human relations, judicial function, forensic science, and criminal procedure.
It is also a good idea to take foreign language courses. The U.S. Bureau of Labor Statistics (BLS) indicates that proficiency in a foreign language can be beneficial for aspiring detectives, especially in urban surroundings. Some programs also include an internship experience during which a student can get real-world insight into the field.
Four Top Criminal Justice Schools
According to the website Niche, the four top universities and colleges for criminal justice/criminology are:
University of Pennsylvania
University of California–Irivine
CUNY John Jay College of Criminal Justice
Florida State University
However, there are many outstanding programs provided by schools of higher education throughout the country.
Step 2: Complete Police Training Academy
In order to be eligible to be trained as a police officer, an individual must be at least 21 years old and a U.S. citizen. He or she may also have to pass drug and polygraph tests. Police recruits must complete training academy programs and often pass written and physical tests before beginning to serve as officers. Individual police departments, and state and federal agencies, offer these programs. They include a mixture of physical training and classroom study in areas such as firearm training, self-defense, traffic control, and first aid. Police academy graduates should have a clear understanding of state and local law.
Step 3: Develop Skills and Fitness
Detectives should maintain excellent physical and mental health. They can do this by engaging in regular exercise and fitness training, which better equips them for handling danger and stress. Detectives can keep a sharp mind by brushing up on new techniques and technology. For example, studying computer forensics can be extremely useful because of the increase in cybercrime.
Detectives must be very perceptive and observant to do their jobs. The ability to pay keen attention to detail is a very important quality for a detective. Individuals should cultivate these skills while on the job, paying close attention to crime scenes and accidents and learning how to capture details in reports.
Step 4: Build Work Experience and Pass Exams
Detectives typically are chosen from existing police officers; thus, aspiring detectives should express their interest to superior officers to be kept in mind for promotion. Many agencies require police officers to serve an average of five to seven years before becoming eligible for detective positions. In addition to real-life field experience, potential police detectives are expected to pass exams pertaining to this job role. Promotion to police detective within agencies is generally based on an individual's position on a promotion list, scores on agency exams, and an evaluation of his or her performance as a police officer.
Detective Exams
One of the exams that is typically used across the nation for police officers wishing to be promoted to police detective is the National Detective/Investigator Test (NDIT). The exam covers three major categories: Investigative Interviewing, Criminal Investigations, and Major Court Cases. Those seeking to take this test must review materials from three different textbooks and are given a study guide to aid them. It is a written exam and contains approximately 75 questions.
Another exam is the Police Detective Test (PDET). This is an assessment to determine whether or not a candidate for police detective has the necessary skills and competencies to be a good fit for this position. Candidates who take the PDET are given a reading list to help them prepare for the 100 question test which focusses on three key areas when assessing an individual:
Police Investigative Procedures: assesses how well the candidate understands standard operating procedures, including, but not limited to, interviewing protocols and collecting and securing evidence
Laws Related to Police Work: what does the candidate know of the law as it pertains to the police detective role
Concepts for Writing & Completing Reports, Records and Paperwork: a candidates ability to write reports and fill out warrants.
Day in the Life of a Detective
The morning starts early, even though you have been out all night on-call examining the scene of a homicide at a private residence. You dress in plain clothes with your badge either on a lanyard or clipped to your belt (unless you are undercover), and secure your gun, perhaps two, one on your waist and another on your ankle. You get into your take home unmarked car and make your way to the precinct.
At work you check your voicemail and respond to any urgent messages and then organize and prioritize your day based on your caseload. Interviews for witnesses from the previous night's crime scene are scheduled and then you begin the process of examining evidence, including photographs and other items found at the incident site. You document your thoughts and then turn your attention to another, older case you are working.
As afternoon comes around, you throw on your suit jacket, make sure your weapons are securely on your person, and head on out to grab a quick bite to eat and then on to your interviews. You have already mapped out what initial questions you want to ask, and based on the information you receive, adjust your questions for each interview. You record every witness you interview and try to separate opinion from fact. At some point, a pattern appears and you feel increasingly confident on the identity of the suspect.
With the information gathered from the witnesses you apply for a warrant which will allow you to search for additional specific evidence. For example, a witness may have told the you that they saw the suspect strike the victim with a claw hammer. Using this information, you fill out and send a warrant application to the DA's office to search the suspect's residence for a claw hammer and then head out for home.
Once home, if you are still on-call, you might only have time to have a little dinner before getting called out again to another crime scene. Bedtime may not be on the agenda, but you know that part of the job is stamina and flexibility. You head out ready to tackle the next challenge.
Are You up for the Challenge?
Detective work, whether it is with law enforcement or a related agency, is challenging mentally, emotionally, and physically but it can also be a rewarding and satisfying career. If you are someone who enjoys a good puzzle, has a desire to help people in your community, has the ability to quickly and accurately assess a situation, and can communicate with the public ,including establishing a quick rapport with strangers, this might just be the career for you.