By Megan Driscoll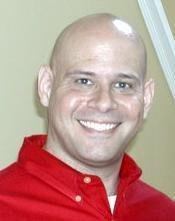 Shane Webb
Shane Webb is a 40-year-old student at Georgia State University (GSU) in his senior year. Upon graduation he'll have a Bachelor's of Business Administration (BBA) in Computer Information Systems (CIS) with a concentration in Cyber Security and a minor in Health Informatics. Study.com caught up with this busy student to find out what it's like to study computer science in the digital age.
Study.com: How did you become interested in computer information systems?
Shane Webb: In the early 1980s I had a good friend whose parents were both engineers at IBM, and they had an original 8088 processor IBM PC. The minute I saw it I wanted one, but what finally hooked me were two games: Zork and Elite. Over the next few years I began tinkering with my mother's office computer - I still can't believe she let a 14 year old upgrade a video card! - and eventually built my first 286. I am an avid gamer and new games have been the driving factor for the hardware upgrades and the many PCs I have built.
E-P: Many of our readers may not be aware of CIS as a distinct field of computer science. Can you explain the difference?
SW: That is a question I have heard often from people interested in computer-related degree programs. Computer science (CS) is the engineering side of the information science (IS) discipline. It is very technically oriented and creates the technologies that are used in IS. Computer Information Systems (CIS) is the business side of the IS discipline. We take the technologies that our CS compatriots build and use them to produce a positive business outcome. In short, CS people are the hard line techs and CIS people are hybrid technical and business specialists. We must be fluent in talking tech with the CS people and business with the various business units.
E-P: What advice would you give someone who is considering majoring in CIS?
SW: I would ask the person to describe his or her current computer in as much detail as possible and why they chose it. If the best a person can manage is, 'It's a Dell and it was on sale,' I would ask why he or she is interested in CIS. A good mechanic is passionate about cars and sports professionals are passionate about their game. A good CIS person should have a passion for technology. There are quite a few of my fellow classmates that are pursuing a CIS degree because they feel it is a good industry with excellent job potential, however, they simply do not have the interest in the subject and struggle greatly with the core CIS classes. My advice is that if the person does not have a genuine interest in technology and the related subject matter she or he should pursue some other degree program. First and foremost, do what you love.
Secondly, some concentrations in CIS programs allow programming to be optional, such as those that focus on business process analysis or IT project management. I recommend taking the programming sequence whether it is required or not. It is excellent exposure to an important subject and may be required for master's work in CIS.
E-P: What led you to focus on cyber security and health informatics? Is there much overlap in the coursework or application of the two fields, and if so, what does that look like?
SW: Health informatics is a logical choice given my background. I served in the U.S. Navy as a Hospital Corpsman and spent four years providing inpatient and outpatient medical care to sailors and marines. After honorably discharging from the service I began a 10-year career with a private medical malpractice insurance company as an IT infrastructure technician. In one capacity or another I have been around the health care industry for 16 years.
At the undergraduate level, the health informatics minor is foundational and focuses on the structure of the U.S. healthcare system and related policies. The technical coursework is a review of the role of information systems in the health care setting. The coursework overlap has been related to entry level understanding of computer hardware and database systems. Bear in mind the healthcare IT course required for the minor is meant as an introduction for CIS and non-CIS majors alike.
The cyber security concentration focuses on two topics: digital evidence gathering, primarily related to end user client hardware, and the topic of information security (InfoSec) from an organization level. The evidence gathering course is very technical, right down to a bit by bit review of hard drive partitions. InfoSec is a foundation builder for understanding the information security needs of an organization.
There is potential for a great deal of overlap between InfoSec and health informatics, however, an IT security review of article II of HIPAA or Sarbanes-Oxley could each fill its own course. The InfoSec course gives the student the required foundation to pursue further study of both.
E-P: What are your favorite courses in your department?
SW: I admit some bias on my favorite classes. I enjoyed the database systems class simply because I have a few years background in database application design and support and it was good to fill in the holes in my knowledge. The forensics class was very fun, but I have a long background with computer hardware so the subject was both familiar and of great personal interest to me.
The surprise class was IT project management. We covered many cases of failed projects and what caused them to go off track. Details of the Hubble telescope quality measurement problems and the Denver airport automatic baggage handling system stand out in my mind. Approaching the subject matter with both case studies and hands on use of PM software was a fantastic combination.
E-P: What are your plans after graduation? Are you considering graduate school, or do you plan to go straight into the workforce?
SW: I am most interested in graduate school at the moment. Georgia State University has an excellent CIS graduate program and I am lucky to live in the area and have such convenient access to the campus. That being said, I will pursue employment while attending my master's classes. I am very open to off the beaten path employment opportunities. Recently I became aware that the Peace Corps offers an IT and communication volunteer program and have begun looking into what that entails.
E-P: What sort of career do you hope to pursue with your degree? Can you describe your 'dream job?'
SW: I have 10 years of corporate IT behind me and would like to find something outside the ordinary at this point in my career. IS work in law enforcement appeals to me, perhaps because of my military background, and it is a growing field. While health IT also interests me, I see a great deal of frustration for the health IT worker over the next decade. The technology and skilled people needed to create an interoperable and robust national electronic health records (EHR) system exists today. The true challenges to be overcome are bureaucratic and political.
At the end of the day I am a hardware geek through and through. My favorite work has been implementing an infrastructure where none exists or optimizing an existing environment for non-technical organizations. Working at an organization with large scale IT sounds impressive, however, I feel the opportunities for innovation are limited and necessarily occur over a very long timeframe. I see little opportunity to truly make a difference in a large organization.
E-P: This is your senior year. If you could look back and give one piece of advice to yourself - or any other CIS freshman - what would you say?
SW: I would say that, 'Time management is more than just a buzzword.' Balancing full-time work, a full-time or part-time school load, and finding time in there somewhere to live a little will burn a person out quickly. Very often, especially in their senior year, I have found that several of my classmates are dramatically overextending themselves between work commitments, real life and trying to take five 4000 level classes. They hope to finish their degree early but typically fall short of time to study and have to drop classes or ruin their GPA.
I have found the best way to handle this is to plan work, school and free time on the same calendar. Doing this really brings into perspective just how much impact on your time your commitments have. Often people plan these separately and it simply isn't clear how overextended a person has become.