By Polly Peterson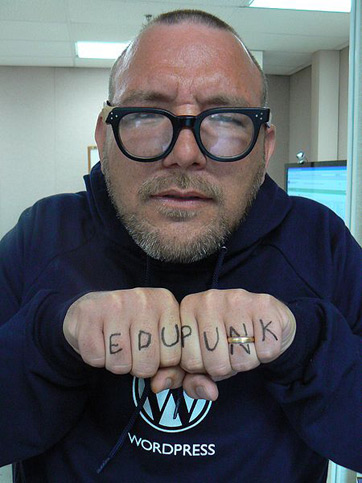 EduMOOC for EduPunks
The Center for Online Learning, Research and Service at the University of Illinois at Springfield is currently offering an 8-week, free Web course about eLearning that's open to anyone who's interested in collaborating, networking and discussing distance education. The eduMOOC runs from June 27-August 19, 2011. It can be completely asynchronous, with all course materials (links to blogs, e-journals, etc.) and discussion forums posted for participants to sift through on their own time. Participants can join the weekly 1-hour panel discussions every Thursday by tweeting questions through the #edumooc Twitter backchannel, or they can watch a recording that's uploaded a day later.
The organic format can be a bit daunting for first-time MOOCers. Orientation videos and helpful moderators make it less so. Though there's a learning curve, self-styled edupunks get out of it what they put into it, and they decide how to measure their own learning outcomes.
The MOOC epitomizes the DIY attitudes that characterize edupunks. Contributors can join study groups that facilitate focused discussion on particular topics. Silent lurkers can click around and follow completely open public feeds. These authentic learning experiences are only as effective as participants' engagement with the course, collaboration within the community of learners and application to real-world projects.
The Current State of eLearning
The opening panel discussion on June 30 focused on recent trends in online education. Collectively, the panelists brought to the table a wealth of experience with distance learning at public and private universities, as well as both student accessibility and continuing education programs.
The top ten takeaways from the panel discussion are:
Hybrid courses are the current norm.
Almost all classes in the U.S., even face-to-face ones, are Web-enhanced.
Today, there are three million online learners.
One-third of the world is 'connected.' That's two billion people on the Web!
Connectivism is an emerging theory of learning.
Knowledge resides in our networks.
The fastest growing market for online curricula is K-12.
For-profit schools are pushing innovation and raising the bar for online delivery.
The outcome-driven setting of online courses disrupts the traditional semester system.
Online instruction is student-centered because it's at the pace of the learner.
Tune in next week when eduMOOC panelists mine user data on the effectiveness of eLearning. Is distance education measuring up to the standards of today's digital natives?
Find out about other strides the Center for Online Learning, Research and Service is making to enhance open education in our interview with founding director Ray Schroeder.