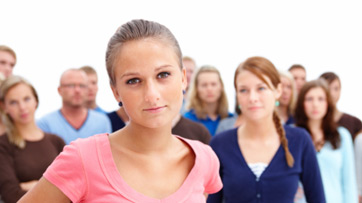 Academics
1. You don't have to choose between college or having a life. As you learn to balance school and life, you'll see that you can study hard and play hard and still have fun.
2. Don't make lame excuses, because professors have heard them countless times. Learn more about what excuses professors have already heard. They have enough experience to tell if you're lying about why you didn't turn in your research paper.
3. Don't feel forced to declare a major immediately. However, make sure you do so by the end of your freshmen year. This can prevent you from wasting time or money by taking courses that don't count towards your future major.
4. Whisper when visiting the library. You'll quickly see that there are some students who will talk loudly while in the library. However, don't be a follower; be courteous towards others by quietly reading or studying and by listening to music with your ear phones.
5. For those attending a large university, take advantage of the numerous academic resources available to you by asking an academic advisor or by visiting the welcome center.
6. Embrace change and be flexible, because it's highly possible that you'll change majors at least once before graduation.
7. Don't get all worked up talking about your personal political views during a class discussion, no matter how relevant you think they are. You'll waste energy and effort that should be used for learning, not soapboxing.
8. Listen carefully to all of your professors' lectures. Don't take the chance of missing valuable information by falling asleep or texting while in class.
9. Be committed and dedicated in your studies in order to receive a good quality education.
10. Be humble and don't think you know it all after taking one course in a certain subject.
11. Be courteous to your professors at all times.
12. You may be assigned to an academic advisor who might not be of much help. Therefore, it's important that you build a good rapport with faculty in order to seek their mentorship and advice when needed.
13. If you plan to study abroad, choose a country that is relevant to your studies in order to have the most enriching experience.
14. Be open-minded at all times, because you may end up loving a course that you thought you wouldn't.
15. If you are uncertain about graduating from the college you're attending, take general education courses in the meantime until you make your final decision to either stay or transfer elsewhere.
16. College is completely different from high school. You won't have teachers or parents pushing you to do your work. You will need to hold yourself accountable all throughout college in order to make the most out of your studies.
Socializing
17. You may meet new friends during orientation, but don't worry if you grow apart along the way. You'll make new friends as you take new courses every semester.
18. You might have been popular during high school, which can differ in college. Your social life may change for the better or for the worse. Whatever the outcome is, keep focusing on achieving your academic goals.
19. Learn to embrace diversity, because you'll meet new people from different paths of life, religions, and cultures. Everyone has something unique to offer, so be sensitive and tolerant towards different views.
20. Learn to talk about important things with your friends other than what you did over the weekend. Exchange ideas on a specific topic addressed in class or share your academic goals.
21. It's a good idea to network and find an upperclassman who is willing to mentor you and share tips on how to succeed in college.
22. Learn about the college's policies on alcohol consumption. Make sure to obey the rules in order to avoid many potential consequences.
23. Be courteous and friendly to your roommate in order to have a peaceful and drama-free home.
Daily Life
24. You'll have to do chores while living in the dorms or off-campus. Therefore, if you don't know how to clean, start learning how to wash laundry, wash dishes and clean the bathroom.
25. Stay away from drinking too much, especially if you have class the next day.
26. Try not to stay out extra late during the week to avoid waking up your roommate when you get home. You don't want to interrupt your roommate's sleep and make him or her upset.
27. College is not party time; it's actually the first stage of your adult life. You'll need to take responsibility for your own actions at all times.
28. Create a budget every month in order to avoid using credit cards and falling into debt.
29. Find out what healthy eating options are available on campus or nearby rather than eating the fattening food that may be served at the cafeteria or food court.
30. The 'freshman 15' is an expression that refers to the weight gain experienced by most freshman during their first year in college. Make sure you are exercising and eating healthy to prevent an extreme weight gain and poor health conditions.
31. Pick up a hobby that doesn't take too much time and that you'll enjoy. Hobbies can help keep you entertained as well as relieve stress caused by school.
Supplies
32. Used books are less expensive than new ones. Make sure you choose used books that have the least amount of bent pages, writing or highlighting.
33. Ask what size your dorm bed is in order to buy the correct size of bedding. Most dorm beds are size twin extra long.
34. You may find great prices on school apparel at your campus bookstore, but it might not always have the best prices on books.
35. You can sell most of your books for cash when the semester is over. You can either sell textbooks online or at your college bookstore.
36. You can usually contact your school's information technology department and ask questions to find out what computer or laptop is the best fit to meet your needs.
Extracurricular Activities
37. You can have a social life by joining fraternities/sororities, clubs, and associations both on-campus and off-campus.
38. Consider starting a club or group yourself if none of the available activities interest you. Check with your school about the process for creating new on-campus clubs.
39. Take advantage of all the resources offered by your college, such as a free health clinic or a career center and alumni network.
40. Make it a habit to leave campus once in a while to get away from the hustle and bustle of school. This can help relieve the stress you feel of having to be at school 24-7.
41. Take advantage of your school's gym facilities. Exercising is a great way to relieve stress.
42. Find out what workshops or events are hosted at your school. These are a fun - and often free - way to gain exposure to new art and ideas.
Career
43. Get in the habit of working hard in school, which will equip you with the essential skills you need to be successful in your future career.
44. Being smart is not the most important thing in life. However, having a good work ethic is crucial to success.
45. You can test out a career as early as you'd like through internships or job shadowing. Visit your school's career center to learn about more opportunities to help jump-start your career.
Friends and Family at Home
46. Keep in contact with your parents by calling them once in a while
47. Expect your friends from high school to change, and know that you may or may not remain friends with all of them. You'll have many opportunities to make new friends in college.
48. Expect your own interests and preferences to change, too.
49. For those who decide to go to school far away from home, it's normal to feel awkward when you go back home during the breaks.
50. For those who decide to go to school close to home, learn to be independent, and don't go running back home every time you feel alone. Building a life for yourself is tough, but it's an important skill.
Learn what causes college freshmen to stress and how to cope effectively.