By Sarah Wright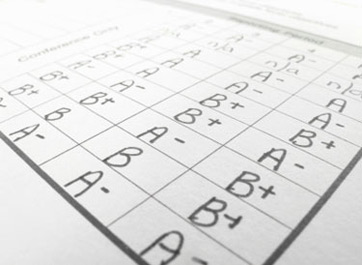 When You Know a Paper is Going to Be Late
Let's say you think your paper is due on the 20th, when it's actually due on the 15th. Your friend reminds you of this over dinner on the 14th. You could go ahead and try to write the whole paper if you stay up all night, but you know that you won't do a good job on the paper by working this way. In cases like this, you should e-mail your professor immediately and let him or her know the paper is going to be late. If you have an outline or rough draft for the paper written out, you should send that information along with the e-mail as proof that you have done some work, but you don't have a finished product.
If you have a valid (and honest) excuse, like illness or a personal emergency, go ahead and give that explanation to your professor. But if there isn't really any reason that you are missing the deadline, other than negligence or confusion over the date, it's probably best to just not mention it and stick to the main point: your paper is going to be late, and you want your professor to know this ahead of time. The professor might voluntarily grant you an extension, or you can ask for one if you think the rest of your record in his or her class is good enough to justify this kind of favor.
When You Forgot to Bring Homework to Class
This kind of minor mistake isn't a huge deal, but if graded homework assignments are few and far between in your class, you might do some damage to your grade by not turning in a single assignment. Plus, if you've done the work, you might as well turn it in, even if it's not on time.
If you forget to bring your homework to class, and you realize this before class starts, immediately tell your professor or TA. If you don't realize until class has begun, wait until after class is over and then explain the situation to your instructor. They might allow you to run and get it with no damage to your grade. The important thing is to get it to them ASAP so it's clear that you did just forget and aren't running home to make something up last minute.
When You're Drawing a Blank on a Test
You're taking a long test, and so far things have been going smoothly. It's clear that your hard work throughout the semester has paid off, and your studying in the week leading up the test has helped you refresh your memory. Suddenly, you reach a question and just can't come up with the answer. This is probably a fairly familiar situation to many students. Sometimes, you just can't remember something when it's crunch time.
When this happens, you should move on and complete the rest of the test, making sure that you answer all the other questions. You don't want to potentially miss even more questions than just the one you're drawing blank. When you've finished the rest of the test, go back to the question that stumped you. If you still genuinely can't remember the answer, come up with your best response. You might end up with partial credit, which is better than just leaving it without any answer.
Consulting your class syllabus will help you get a sense of how serious a low grade on a specific assignment might be.